Will they get their wish?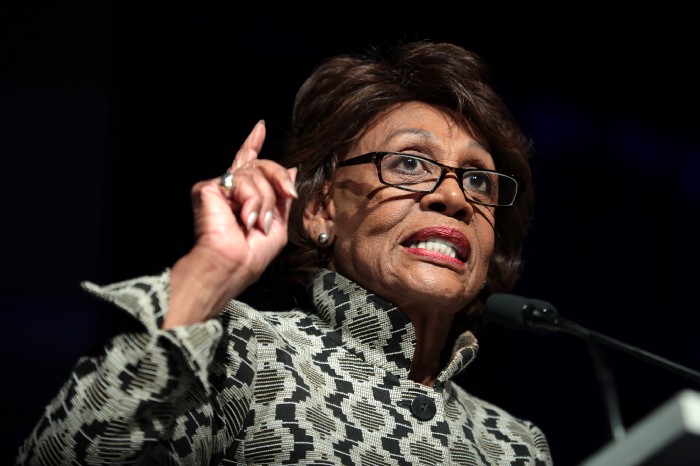 House Minority Leader Kevin McCarthy (R-CA) demanded on Sunday that House Speaker Nancy Pelosi (D-CA) take action against Rep. Maxine Waters (D-CA) over remarks Waters made over the weekend.
"Maxine Waters is inciting violence in Minneapolis — just as she has incited it in the past," McCarthy said in a statement. "If Speaker Pelosi doesn't act against this dangerous rhetoric, I will bring action this week."
Rep. Waters attended a protest on Saturday night in Brooklyn Center, Minnesota, where police shot and killed 20-year-old Daunte Wright last week. Waters' remarks also come just days before a verdict will be reached in the Derek Chauvin case.
"We're looking for a guilty verdict. We're looking for a guilty verdict," Waters said. "If nothing does not happen, then we know that we've got to not only stay in the street, but we've got to fight for justice, but I am very hopeful and I hope that we're going to get a verdict that will say guilty, guilty, guilty. And if we don't, we cannot go away."
Waters added that activists must "stay on the street."
"We've got to stay on the street and we've got to get more active, we've got to get more confrontational," Waters said. "We've got to make sure that they know that we mean business."
"I'm going to fight with all of the people who stand for justice," she added. "We've got to get justice in this country and we cannot allow these killings to continue."
A ​number of prominent Republicans have condemned Rep. Waters for her remarks, including Sen. Ted Cruz of Texas.
"Democrats actively encouraging riots & violence," Sen. Cruz wrote on Twitter Sunday. "They want to tear us apart. 'We gotta stay on the street,' Waters was recorded saying, adding that protesters needed 'to get more confrontational' & they should ignore the curfew in place."
"The Radical Left don't care if your towns are burning, if there's violence in your streets, or if the police are too defunded to defend their communities. As long as the Left appeases their anti-America base, their job is done," Rep. Andy Biggs (R-AZ) wrote on Twitter.
"Telling rioters who have burned buildings, looted stores, and assaulted journalists to get 'more confrontational' is incredibly irresponsible. Every House Democrat should condemn Maxine Waters' call for violence," National Republican Congressional Committee spokesman Mike Berg told Fox News.
Waters made headlines last week after telling Rep. Jim Jordan (R-OH) to "respect the chair and shut your mouth" during a hearing with Anthony Fauci, the chief White House medical adviser. In 2018, Waters called for supporters to "push back" on members of the Trump administration in public.
"Let's make sure we show up wherever we have to show up. And if you see anybody from that Cabinet in a restaurant, in a department store, at a gasoline station, you get out and you create a crowd," Waters said. "And you push back on them. And you tell them they're not welcome anymore, anywhere."
Pelosi called Waters' comments at the time "unacceptable" and Senate leader Chuck Schumer said her comments were "not American".
Rep. Steve Scalise, who was the victim of an armed attack in 2018 during practice for the annual Congressional Baseball game by a supporter of Bernie Sanders angry about the outcome of the election, also condemned Waters' most recent remarks.
On Sunday, Rep. Marjorie Taylor Greene (R-GA) announced an effort to expel Waters from Congress.
In a statement released by her office, Rep. Greene said "I'll be introducing a resolution to expel Rep. Maxine Waters from Congress for her continual incitement of violence," and accused Rep. Waters of inciting "Black Lives Matter domestic terrorists to fire gunshots at National Guardsmen in Minnesota."
On Sunday, Greene claimed Waters' comments "led to more violence and a drive by shooting on National Guardsmen in Minnesota early this morning."
Two guardsmen were in fact injured on Sunday morning after a gunman fired at a Minnesota National Guard and Minneapolis Police Department neighborhood security team, the Minnesota National Guard said. However, the Minnesota National Guard has provided no connection to Waters' comments.
Ironically, Greene herself has been accused of inciting violence related to the January 6, 2021, riot at the U.S. Capitol in which one Capitol police officer lost his life.
House Minority Leader McCarthy can propose a resolution to attempt to censure Waters or strip her of her committee assignments, however, it is unlikely to pass in the Democrat-controlled House.
Though Waters has dismissed the criticism, even media outlets friendly to Democratic politicians are being forced to condemn her statements even as they go on to accuse Republicans of hypocrisy.
"Incendiary warnings by Democratic Rep. Maxine Waters about the potential outcome of the trial of the ex-police officer charged with killing George Floyd could spike tensions, were legally unwise and raise questions of Democratic double standards," was CNN's opening salvo in "Waters' comments on Chauvin trial pour fuel on the fire — and expose Republican hypocrisy."
CNN also referred to her remarks as "controversial".
"I am nonviolent," Rep. Waters told TheGrio, later clarifying her remarks. "I talk about confronting the justice system, confronting the policing that's going on, I'm talking about speaking up."
Defenders of Rep. Waters point out that, in addition to her responsibilities in Congress, she has perfect a right to express her opinion about a high-profile trial, like any other U.S. citizen.
Some of her critics, however, have pointed to the possible legal ramifications of her statement, which the judge in the case speculated could be used in future appeals and on the basis of which, Derek Chauvin's lawyer moved for a mistrial.
The motion was denied, but even should Chauvin be found guilty, Rep. Maxine Waters' comments may come back to haunt her…and the city of Minneapolis. Upon a guilty verdict, the appeals process will begin. Waters may have inadvertently given Chauvin's defense a basis for appeal; one it wouldn't have had otherwise.
(contributing journalist, Allegra Nokaj) (contributing writer, Brooke Bell)