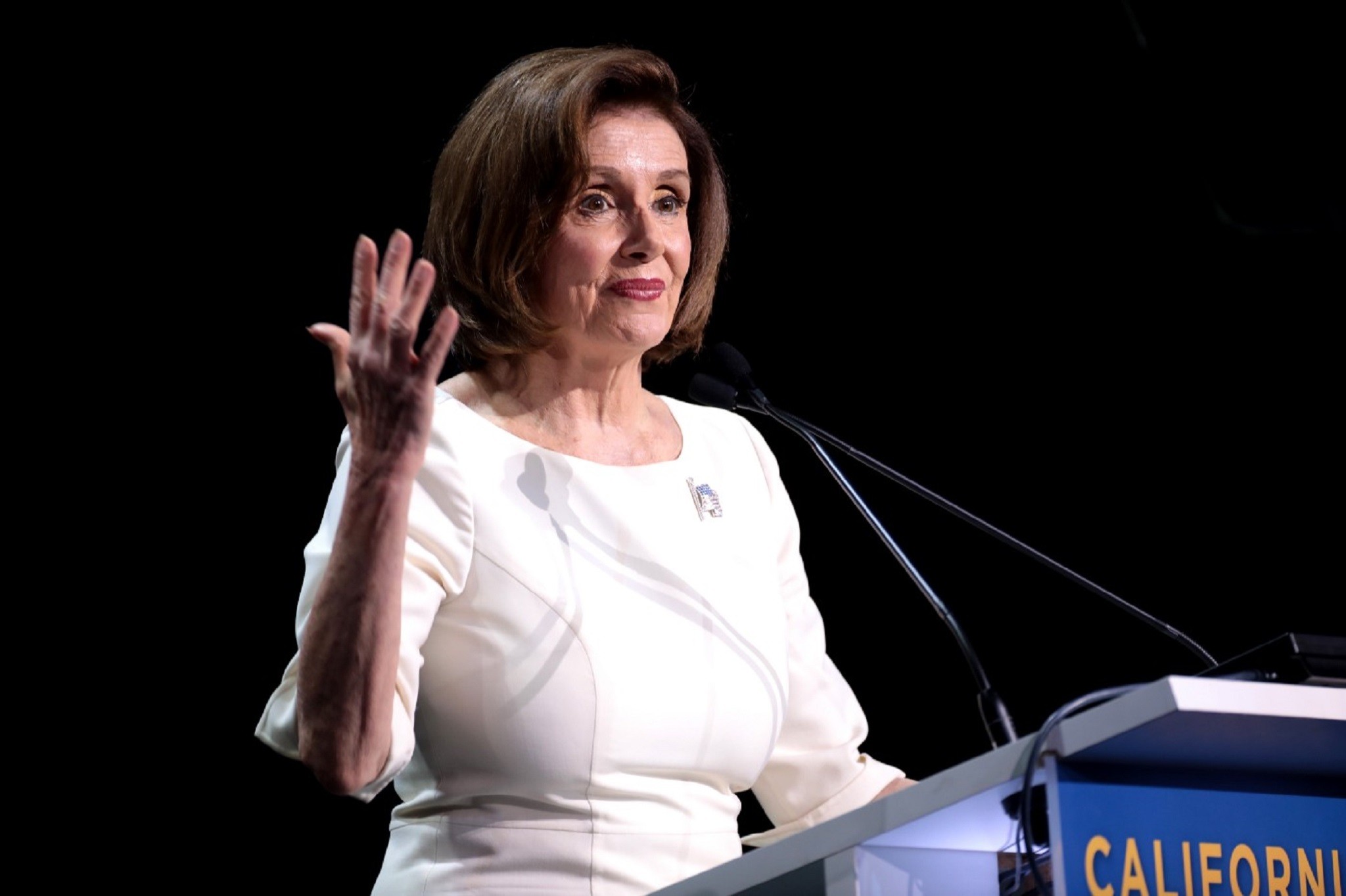 Speaker of the House Nancy Pelosi speaking with attendees at the 2019 California Democratic Party State Convention at the George R. Moscone Convention Center in San Francisco, California. (photo:Gage Skidmore)
The Long View
U.S. President Donald Trump is playing checkers; Speaker of the House Nancy Pelosi and House Democrats are playing chess.
Or is it the other way around?
One political party has definitely outsmarted the other this week, though which one is far from clear. The dust hasn't quite settled yet.
But it is at least possible that House Democrats, enjoying a Democratic majority and the stalwart political leadership of Speaker of the House Nancy Pelosi, have executed a perfect political coup de gras this week.
By announcing an "impeachment inquiry" (not to be confused with actual articles of impeachment) into Donald Trump and his July call with the Ukraine President, Pelosi has still left her caucus plenty of wiggle-room if the evidence doesn't end up amounting to much. She has also done much to appease the increasingly vociferous progressive left, a contingent which has been beating the impeachment drums since Day 1 of the Trump presidency, if not before.
The details are still thin, at this point mostly hearsay repeated by a politically motivated CIA agent, but it doesn't matter.
Pelosi and hard-line progressives in Congress may have already achieved everything they hoped by jumping on impeachment this week.
Democratic House leadership and the Democratic National Committee hoping to retain the majority in 2020 and win back the Presidency need to do only two things between now and election day:
Mobilize massive Democratic turnout against Donald Trump.
Choose the right Democratic candidate to beat Donald Trump.
With this latest move, Democrats may have already accomplished both.
Mobilizing Democrats to vote against Donald Trump is the easy part. Most liberal Democrats already hate Donald "Not My President" Trump with the fire of a thousand suns. Nothing could prevent them from casting their ballot for any Democrat running against him.
Moderates or independents who may have been on the fence about Trump's foibles, particularly in light of the Russian investigation that lead to no action against Trump whatsoever, may be seeing Trump as a weakened candidate in light of this most recent scandal.
But weakening Donald Trump is just a nice bonus for House Democrats.
The true genius of this latest move to "inquire" into impeachment against Donald Trump is in what it will do to the Democratic field writ large.
Namely, to Joe Biden.
This scandal resurfacing couldn't have come at a worse time for former Vice President Joe Biden. It is well known in political circles that, as a candidate, Biden has a tendency to get testy when questioned.
And Biden is likely to have to answer a great many questions about this matter, which received almost no attention from the press at the time.
There was scant attention paid to Hunter Biden's $50,000 per month job with a Ukrainian energy company under investigation when it was news in 2015. Biden probably would have preferred to never hear about it again.
But most people are only hearing about it for the first time in connection with the impeachment of Donald Trump.
Considering that House Democrats have no illusions about where impeachment proceedings would go once they cleared the House- that is, no where- bringing up this business was either very smart or very stupid.
Checkers, or chess?
If House Democrats are playing checkers, Donald Trump has them. The Trump campaign and the Republican Party have been raking in the campaign cash hand over first since the moment Pelosi made her announcement on the impeachment inquiry.
After the latest Trump impeachment bombshell broke this week, Wall Street and the stock markets reacted by doing…absolutely nothing. If anything, investor confidence is high for a Trump breakthrough on China trade.
Keep in mind, these are extremely wealthy interests who do not enjoy losing money. Nor did they become wealthy by not understanding how to read the writing on the wall.
If House Democrats are playing chess, however, a Trump impeachment inquiry that tarnishes the fading Biden would be a perfect way to shape the Democratic primary in a fashion more palatable to Pelosi.
More importantly, in a fashion likely to be far more palatable to Justice Democrats of which A.O.C. is one notable member. The progressive hard-left has not been overly impressed with Biden, nor have they been particularly inclined to buy into his status as the one to beat Donald Trump.
With Biden diminished by the Ukraine/Hunter Biden scandal, which the public at large sees as on par with the accusations against Trump, Sen. Elizabeth Warren will almost certainly get the boost she needs to catapult her into the front runner seat.
Former President Joe Biden will be able to exit the race in style, able to blame Trump for the manufactured scandal against him. The Obama administration remains untarnished.
Now, whether this gamble will pay off for House Democrats remains to be seen. Trump's efforts to paint this latest scandal as just another case of Presidential harassment during a partisan witch hunt has been fairly effective, at least among his supporters.
It is possible that voters will be willing to elect Elizabeth Warren, but will unable to forgive House Democrats for ignoring their other responsibilities in favor of undermining Donald Trump.
Is it check mate at last for Nancy Pelosi and House Democrats?
They might not have removed Donald Trump from office- yet. But House Democrats may have already achieved everything they hoped.
Trump has been tarnished, the liberal base is furious, and the Democratic presidential field has been reshaped overnight.
(contributing writer, Brooke Bell)