From newsrooms to boardrooms, companies are being advised and advising employees to keep abortion views private.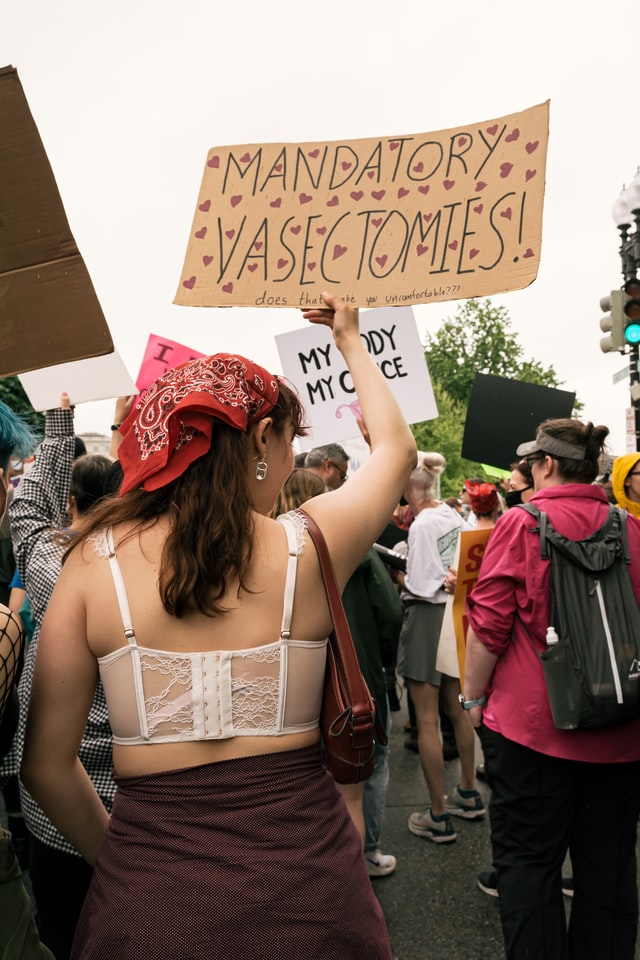 By the time the very first virtue-signaling advertising campaign reared it head, it might have already been too late.
The morass of conspicuous consumerism was the perfect petri dish. Clever advertisers for Gap and Coca-Cola ushered in a new era of slick marketing tactics. Too soon, it was no longer, "buying our product will make you richer/ more popular/ more attractive to the opposite sex."
The new line: "Buying our product will make you a better person and the world a better place."
It seemed like quite a stretch for companies known for chemically addictive sugar-water and fast-fashion garments mass-produced using, at best, cheap, exploitative foreign labor.
But people bought it. And bought it.
It always appeared to some a cynical marketing ploy, rather than a good-faith effort to improve the lives of impoverished and marginalized people around the world. Corporate virtue signaling seemed to its detractors to be a form of altruistic "greenwashing".
"Greenwashing" refers to the tendency of some companies to dedicate themselves, not to lowering the negative environmental impact of their products, but to painting their packaging green, with pretty trees and other things meant to tacitly imply- careful not to promise in any legally-binding sense- environmental responsibility.
Serious consumers dedicated to organic food, sustainably-produced goods, and supporting companies providing a living-wage for foreign workers and engaging in fair-trade practices in emerging nations soon learned they had to do their homework.
Greenwashing represented a new age in marketing practices. That is almost when a new type of company was born, or rather, the old snake-oil salesman got a new business plan.
Companies didn't necessarily have to be good at producing a quality product, making it attractive to consumers and getting those widgets out the door in a timely manner.
A sub-par product, well-marketed could outstrip its betters- at least until consumers caught on.
In 2022, you see this all the time. A new sneaker, or workout wear company will pop up on social media and suddenly you'll see ads for it everywhere, complete with glowing reviews from consumers and influencers.
Buy some of those sneakers or leggings and learn the truth; the marketing gets five stars- the product itself, barely rates.
Tricking consumers into believing that buying a soft-drink or a pair of cheap chinos at the mall would somehow alleviate social problems like racism, inequality, or discrimination- while still benefitting from globalized manufacturing opportunities to exploit low-wage workers in emerging nations and lower production costs by skirting environmental regulations in places like the U.S.- was perchance the best advertising strategy marketers have ever come up with- and they convinced a generation of young people that smoking would make them fit, cool and popular.
Corporate virtue signaling worked perfectly, at least at first. All marketers needed do was dip a toe into the ongoing culture wars between the far right and the far left and let them do the rest, spreading the ad campaign far and wide into the consciousness of the vast middle majority who didn't notice and wouldn't care if they did.
Fast forward to 2020, and corporate virtue signaling hit a major high-point. The public murder of George Floyd by Minnesota Police Officer Derek Chauvin sent Black Lives Matter right to the top of every corporate giving board's pile of worthy charitable organizations.
When the state of Georgia passed laws restricting mail-in ballots and adopting other voting security measures, progressive objectors to the changes mobilized corporations to join the effort to pressure Georgia legislators to revise their position on voter laws.
The efforts didn't work to change Georgia's voting laws- they were, when the dust settled, less restrictive than in New York- but the MLB famously moved its all-star game out of the state in response.
Later that year, Georgia's baseball team made it into the World Series and some of those important games were held in Atlanta anyway. The ball, Georgians said, never lies and the kerfuffle seemed to die down.
Cracks in corporate virtue signaling really started to show when the subject of Israel and BDS was raised.
During one of the most recent conflicts between Israeli forces and the organizations which control Palestine, corporations and organizations from school districts to ice cream makers, found themselves under intense social pressure from progressives to condemn Israel and join the movement to Boycott, Divest and Sanction the world's only Jewish state out of existence.
Some companies, universities and organizations openly balked, with some stubborn contrarians going as far as to wonder what Israel had to do with a public school district in San Francisco.
The conflict in Ukraine seemed like a safe bet for corporate virtue signalers, and soon blue and yellow themes of advertising support were everywhere.
When Florida passed a law critics called the "Don't Say Gay," law, which prohibited sex education deemed "not age-appropriate" for students grade K-3, the Disney company found itself in the unenviable position of defending sex ed for five-year olds.
Worse, the company failed to oppose the bill in advance of its passing and being signed into law- which angered its liberal customers, who believe the law was intended to target the LGBTQIA+ community. Disney took great pains afterwards to condemn the law, vowed to produce and promote more LGBTQIA+ programming, and even promised to pause contributions to Republicans in the state- which angered its more conservative customers.
In the aftermath, Disney was stripped by Florida lawmakers of some of its special tax privileges in Florida, benefits it had been enjoying for decades. This action, which many called retaliatory, put progressives in the extremely odd position of defending tax breaks for large corporations like Disney, something they oppose under all other circumstances.
In tandem with this blow to corporate virtue signaling, another sticky situation has been brewing. All those millions of corporate giving dollars which poured into the organization known as Black Lives Matter have been coming back to haunt corporate giving executives.
A series of financial disclosures have not shown the organization in the best light. Major corporations have paused giving, pending further disclosures. Leadership within the organization, and local chapters, have had a very public falling out over all that money, and where it went. Recently, there have been high-profile defectors from BLM's corporate and legal team.
Meanwhile, BLM's adversarial relationship with U.S. law enforcement agencies, and the recent rise in violent and property crime across the nation, has resulted in police organizations and unions beating down corporate giving doors demanding companies pay to undo the damage done to police-community relations with equal, in-kind contributions to law enforcement agencies.
Into this tumultuous pond, the recently leaked Supreme Court majority opinion on overturning Roe V. Wade. has hit like a hydrogen bomb.
Progressives, who heretofore have dominated the corporate virtue signaling game- having taken over from the failed One-Million Moms conservative organizations of yesteryear- demanded corporations take immediate action to, as they see it, protect women's reproductive rights.
And companies balked. Big time.
From newsrooms to boardrooms to faculty lounges, consultants, executives and human resource directors are being instructed, and instructing their corporate clients NOT to discuss the abortion issue at work and not to take sides in the debate.
Some have even been warned by legal experts that doing so and permitting such discussion might create a hostile work environment for religious employees opposed to the practice of abortion.
Some companies have bucked this trend- Amazon and Tesla, for example- but still more have remained stubbornly mum.
If the leaked Supreme Court opinion is brought into fruition and Roe V. Wade is indeed retracted, corporations will face even more pressure.
At that time, progressives will learn the truth: Are corporations from Nike to Gillette sincere in all those lovely progressive values they've been espousing?
Or was it all just commercials?
(contributing writer, Brooke Bell)