In Pakistan, a Christian woman who was acquitted last year after almost a decade on death row for blasphemy is finally free.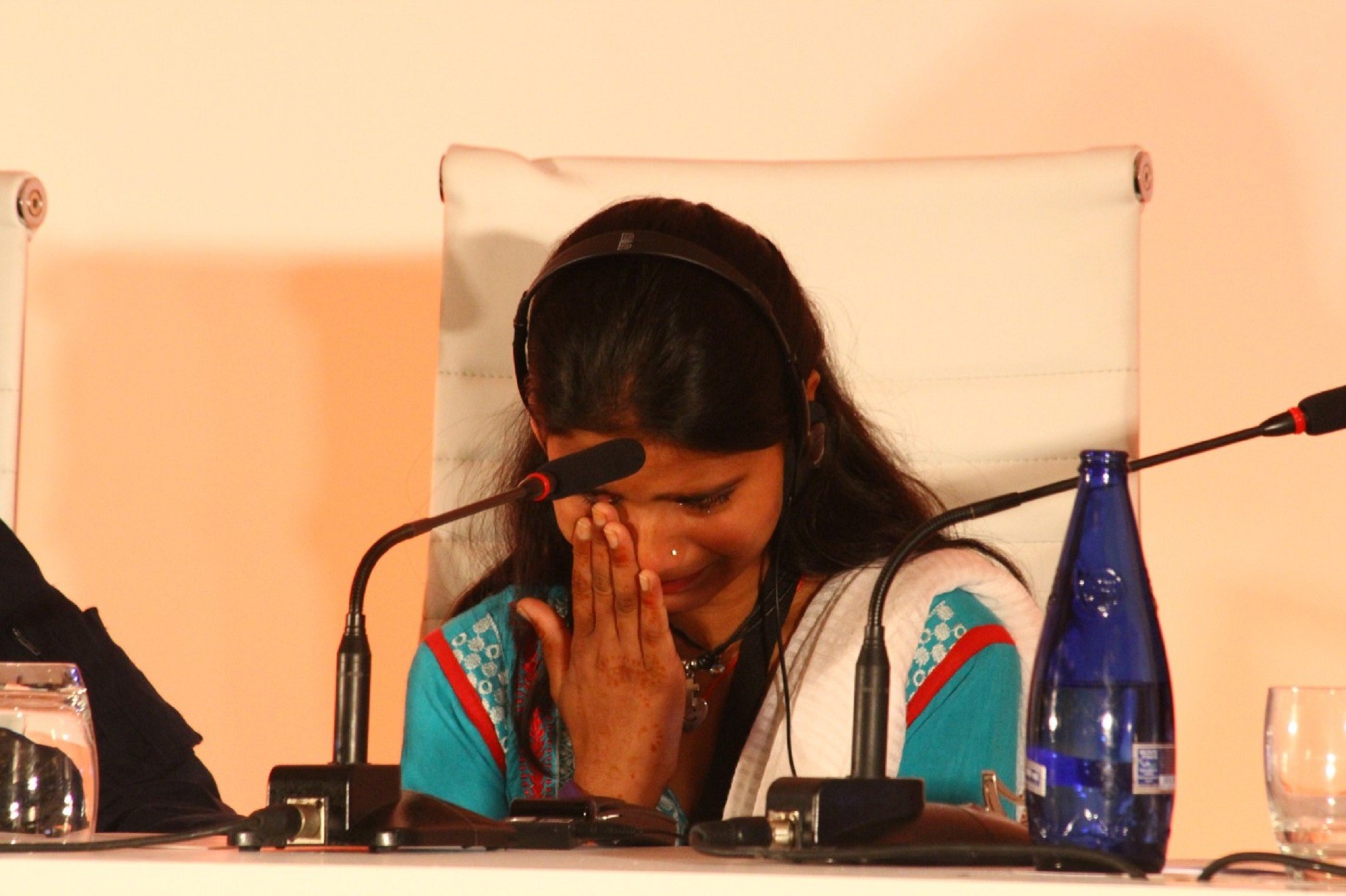 Asia Bibi's daughter cries during a 2015 press conference about her mother's case. Bibi's incarceration and death sentence caused an international outcry. (photo: HazteOir.org)
The long, sad story of Asia Bibi, a simple farm hand sentenced to death almost a decade ago for blasphemy, began as a minor workplace dispute over the sharing of community drinking utensils.
It ended two weeks ago as the 50-something mother of five boarded a plane in Pakistan together with her husband, bound ultimately for asylum in Canada to join her daughters already in residence.
Bibi had been technically free since January 2019, but has been held in protective custody with Pakistani officials giving the international community few clues as to when Bibi would be ultimately released.
Canada agreed to grant Asia Bibi and her family political asylum following Bibi's October 2018 acquittal on a charge of blasphemy that carried the death penalty. Staying in Pakistan was not an option: Although she was acquitted, Asia Bibi is not safe in Pakistan as Islamist militants, including the powerful and influential Tehreek-e-Labaik Pakistan (TLP) have threatened to carry out the death sentence anyway.
Though Pakistan has never actually executed anyone for blasphemy to date, mob violence against anyone accused of blasphemy is not uncommon and is rarely prosecuted.
The TLP and other extremist factions within Pakistan were violently opposed the release of Bibi. They are also responsible for the days-long, violent demonstrations that followed Bibi's acquittal.
Now, having failed to reverse her acquittal by legal means after Pakistan's highest court voted in January 2019 to uphold their October 2018 finding in the case that Bibi did not commit blasphemy, the TLP has sworn vigilante vengeance.
Since the release of Asia Bibi, the TLP has called for a coup within the Pakistani armed services and vowed to assassinate the federal judges responsible for Bibi's acquittal.
The judges presiding over the case have shown particular moral courage in repeatedly standing up against radical elements like the TLP that organize mass demonstrations and react violently when the Pakistani government opposes their will.
"Blasphemy is a serious offense but the insult of the appellant's religion and religious sensibilities by the complainant party and then mixing truth with falsehood in the name of the Holy Prophet Muhammad (Peace Be Upon Him) was also not short of being blasphemous. It is ironical that in the Arabic language the appellant's name Asia means 'sinful' but in the circumstances of the present case she appears to be a person, in the words of Shakespeare's King Leare, 'more sinned against than sinning'." — From the ruling made by Pakistan's Supreme Court; Chief Justice Mian Saqib Nisar, assisted by Justice Asif Saeed Khosa and Justice Mazhar Alam Khan. October 31, 2018.
The court's decision to acquit Bibi was particularly courageous given the bloody history of the case. Both Salman Taseer, then governor of the Punjab, and Minorities minister Shahbaz Bhatti were assassinated in 2011 for advocacy on Bibi's behalf and on the behalf of other religious minorities on trial for religious crimes like blasphemy and apostasy.
Attorneys who represent clients accused of blasphemy have also been killed or threatened into abandoning these controversial cases.
Attorney Saif ul Malook, who represented Asia Bibi, fled Pakistan for the Netherlands under threat of death. For his work on the Bibi case, he was named 2018's Secularist of the Year.
Though Asia Bibi and her family are safely in Canada, whether they will remain so may be dependent on the Canadian government. Canadian authorities have promised to protect Asia Bibi and her family from radical terrorists who have sworn to track her down and kill her.
Arguably, Asia Bibi's ordeal is mostly over. She's spent the last decade in solitary confinement for her own safety, preparing her own meals to prevent being poisoned. She knows better than most what it is like for people to want her dead. For her, living under a death sentence is hardly new.
However, the ordeal is far from over for the other 40 people still being held in Pakistani prisons on convictions for blasphemy. Half are on death row, the other half serving life in prison.
Asia Bibi's cell isn't empty; it is now occupied by another middle-aged woman serving a sentence for blasphemy, Shagufta Masih. She, along with her disabled husband, were convicted of blasphemy and sentenced to hang.
Asia Bibi's lawyer is now representing the couple.
Human rights organizations take particular exception to laws persecuting people for religious crimes like blasphemy, but Pakistan's blasphemy laws are particularly troubling in that they are so vague. Any act deemed to 'outrage religious feelings' is punishable by 10-years in prison.
That some blasphemy convictions carry a death sentence make the vagaries of what constitutes blasphemy even more problematic in places like Pakistan.
"It is a great relief that this shameful ordeal has finally come to an end and Asia Bibi and her family are safe. She should never have been imprisoned in the first place, let alone endure the constant threats to her life. This case horrifyingly illustrates the dangers of Pakistan's blasphemy laws and the urgent need to repeal them." — Omar Waraich, deputy South Asia director at Amnesty International
(contributing writer, Brooke Bell)