U.S. Rep. Michael McCaul brings balanced experience and proven leadership to the race for the House Foreign Affairs Committee Ranking Member.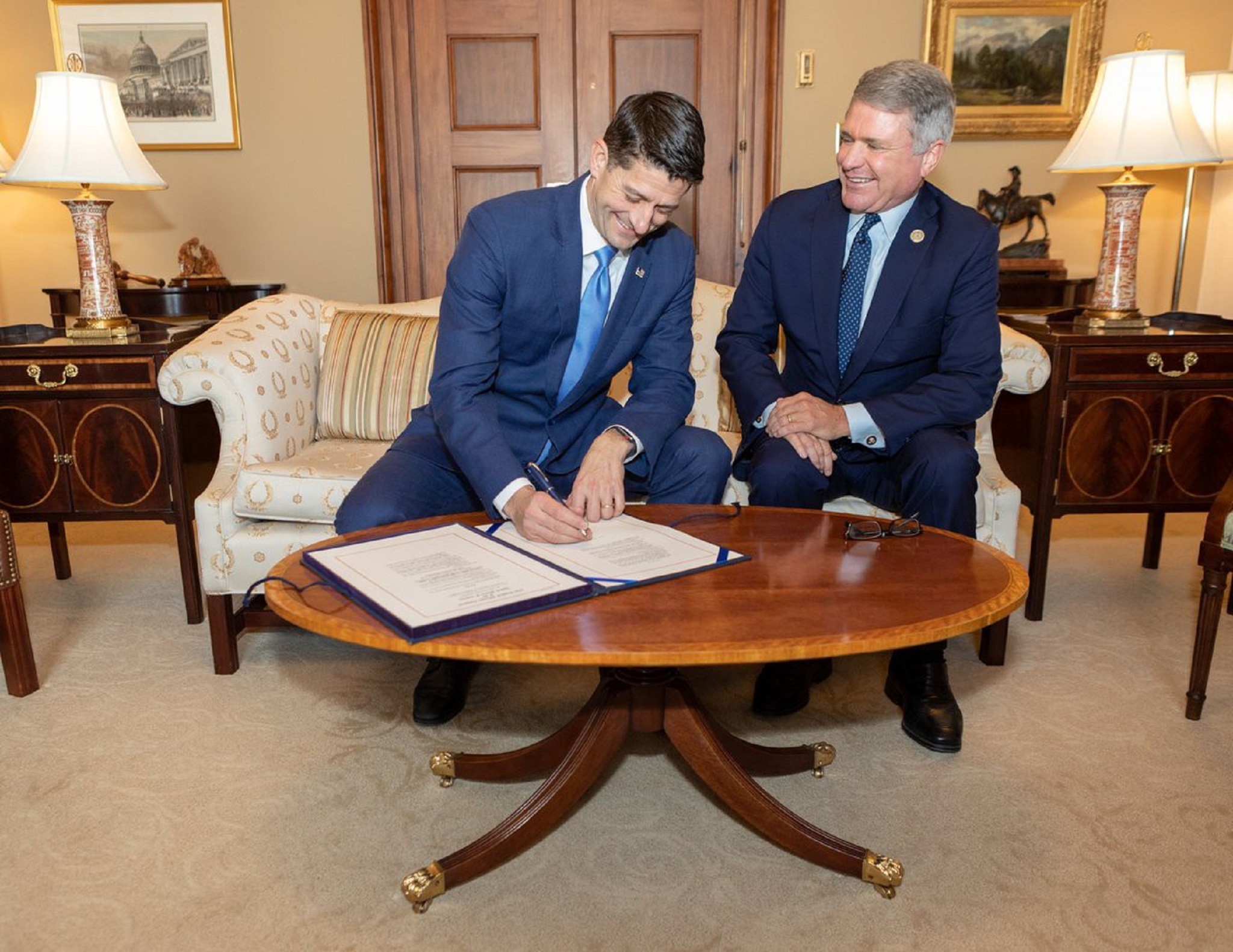 House Speaker Paul Ryan and Rep. Michael McCaul (R-TX) prepare to send the H.R. 3359 cybersecurity bill passed November 2018 with bipartisan support to President Trump to be signed into law. (Photo: Office of Speaker Paul Ryan)
The House Foreign Affairs Committee
Helping the U.S. navigate a rapidly changing world.
"I have dedicated my professional life to national security and have proudly served on the Foreign Affairs Committee since first coming to Congress. Confronting the many foreign policy challenges facing our country will require strong and steady leadership. I have run a productive and results oriented security committee and believe that I am the right person to be Ranking Member. In this position, I will communicate a clear vision that projects American leadership on the world stage." — Chairman Rep. Michael McCaul in a Nov. 9, 2018 press release announcing his run for Ranking Member of the House Foreign Affairs Committee
Now that the 2018 Mid-term elections are finally drawing to a close, all attention in the House of Representatives has turned to leadership elections.
The House Foreign Affairs Committee is no exception. The retirement of current Chairman U.S. Representative Ed Royce (CA) has left a leadership position vacant during a pivotal time for the Republican Party and, indeed, for the U.S. and its allies.
The House Foreign Affairs Committee election results will have the power to do much more than help determine whether or not Republicans will retake the majority in the House.
In the next two years, the Foreign Affairs Committee needs to play a critical role in protecting Israel, advancing America's interests around the world and building lasting partnerships with U.S. allies that are vital to our security both here and abroad.
The U.S. Embassy is Now in Israel
"After meeting with many brave Israeli leaders, it is clear that our two countries must continue to strengthen our steadfast alliance to counter regional menaces. As new threats and challenges emerge, we stand firmly beside the Israeli people." -House Homeland Security Committee Chairman, Rep. Michael McCaul
In danger from the moment it was announced in December 2017, the new U.S. Embassy in Israel represents a bold move by the Trump Administration. Many say it was long overdue, considering the closely-allied relationship between the U.S. and Israel; some say it will also come at a price.
Why is it so important to support Israel?
Rep. Michael McCaul understands that a strong partnership between the U.S. and Israel is essential to containing the dangerous and precarious situation in Iran, as he wrote in a September 2017 Op-ed for The Hill. Rep. McCaul also supported the Countering America's Adversaries Act which was signed into law August 2017 and allows the use of sanctions in response to cyber-security breaches, human rights violations and, in particular, the advanced weapons programs in Iran. For this and other important work, Rep. McCaul received a Jewish Institute for National Security Affairs (JINSA) Distinguished Service Award in 2017.
"This is a high-risk game, you want to be optimistic that the outcome is going to be a better deal with Iran and then we'll be able to, in working with North Korea, ensure that neither one of these countries will be a nuclear power because both of them create an existential threat to the United States, and I think North Korea's ICBM capability that they demonstrate clearly shows that they are capable of hitting not just Japan or South Korea but this continent as well." -Rep. Michael McCaul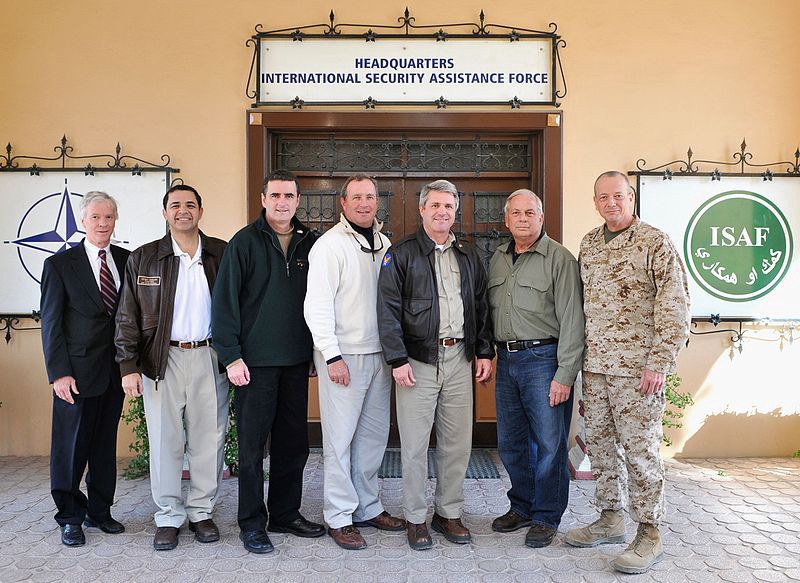 Getting Bi-partisan Support for a Non-nuclear Iran
In Foreign Affairs Committee leadership, it will take someone who believes strongly in supporting Israel but who can also be a mediator, a moderator who can help new Democrats in leadership understand the importance.
After serving as the Chairman of Homeland Security Committee for 6-years, and as a long-time and senior member of the House Foreign Affairs Committee, Rep. McCaul has the knowledge and experience to reach across the aisle for a safer U.S. and more secure world. He knows what is at stake and understands how important it is for Democrats newly elected into House leadership to support efforts to protect Israel and promote stability in these dangerous regions.
Setting partisanship aside is also vital to containing and countering the dread hand of dangerous terrorist elements that threaten the safety and security of the U.S. and its allies, both at home and abroad. "They're not checking our party affiliations, ISIS and al-Qaida." said McCaul at a 2018 International Affairs conference, "They just want to kill Americans."
"My committee, and I think any national security committee, should try to avoid this instinct of being partisan. I think partisanship should stop at the water's edge. Every time we go in a congressional delegation, we are not Republican or Democrat; we are Americans representing the United States of America." -Rep. McCaul, 2018 International Affairs Fellowship (IAF) Conference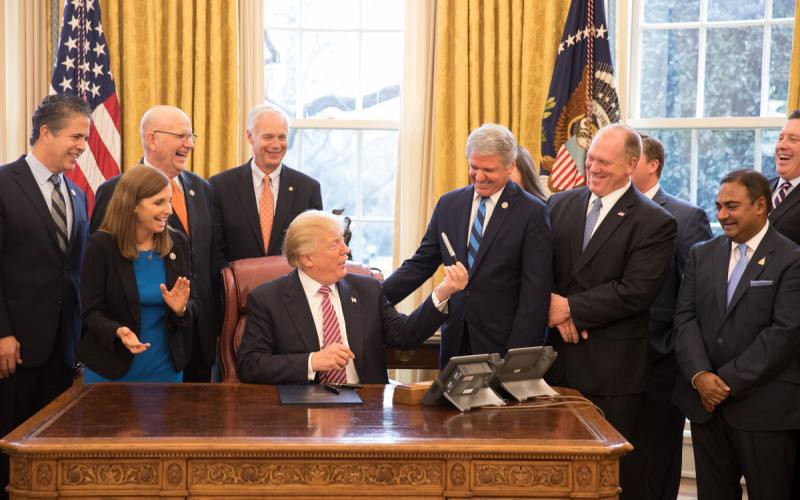 "Hardest Working Committee in Congress"
Those glowing words from Politico refer to Chairman Michael McCaul and the 112 bills he has passed during six years at the helm of the House Department of Homeland Security Committee. His work as a senior member of the House Foreign Affairs Committee has also been far-reaching; recently he authored a bill to strengthen a key counterterrorism partnership in Africa and expand access to international markets for American businesses.
Cybersecurity and Infrastructure Security
To bolster U.S. defenses against threats to cyber-systems and information security, Homeland Security Chairman Michael McCaul (R-TX) sponsored H.R. 3359, which was signed into law November 16, 2018. The Cybersecurity and Infrastructure Security Agency Act will elevate the cybersecurity mission at the Department of Homeland Security, support vital infrastructure, including U.S. election systems, and create the Cybersecurity and Infrastructure Security Agency (CISA). CISA will make proactive cyber protection the number one objective.
"With respect to the vulnerabilities and security of our next election, I can tell you that the Russians are targeting members of Congress, looking at ways to manipulate social media." -Rep. McCaul, 2018 International Affairs Fellowship (IAF) Conference.

"The men and women of the new Cybersecurity and Infrastructure Security Agency will be on the front lines of our cyber defense. They will partner with the private sector, and all levels of government, to defend America's power grids, banks, telecommunications, and other critical parts of our economy." -President Trump on the signing of the Cybersecurity and Infrastructure Security Agency Act November 2018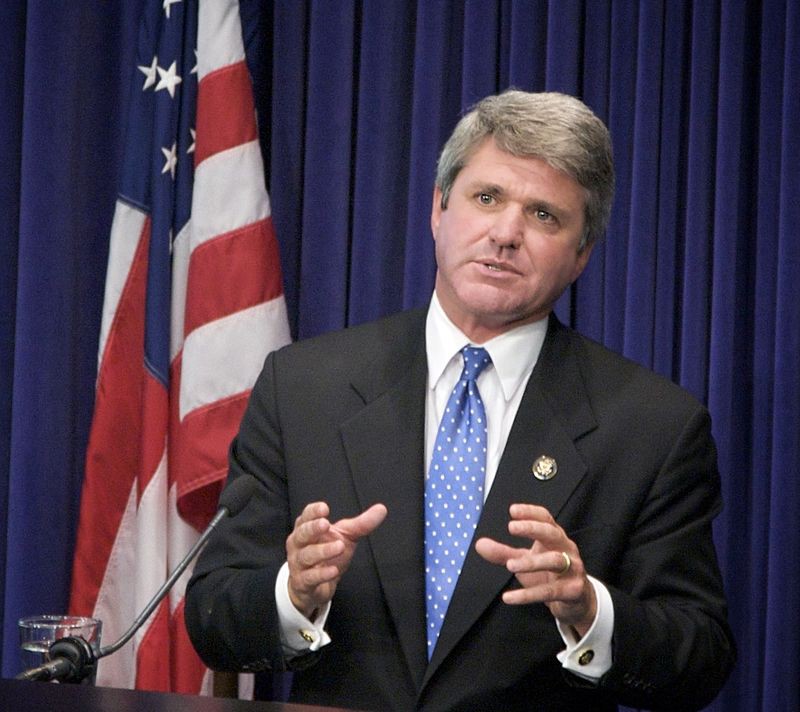 Rep. McCaul addresses cybersecurity at Rice University in 2017 (photo: Ed Schipul)
Someone who understands both National Security and Foreign Affairs
From understanding the problems and solutions presented by rising world-powers like China and Russia, to keeping dangerous rouge nations like Iran and North Korea held in check, battle-hardened statesman Rep. Michael McCaul has what it takes to keep the U.S. one step ahead in 2019 and beyond.
(contributing writer, Brooke Bell)