The third-quarter 2019 campaign fundraising numbers are in: Great news for Donald Trump.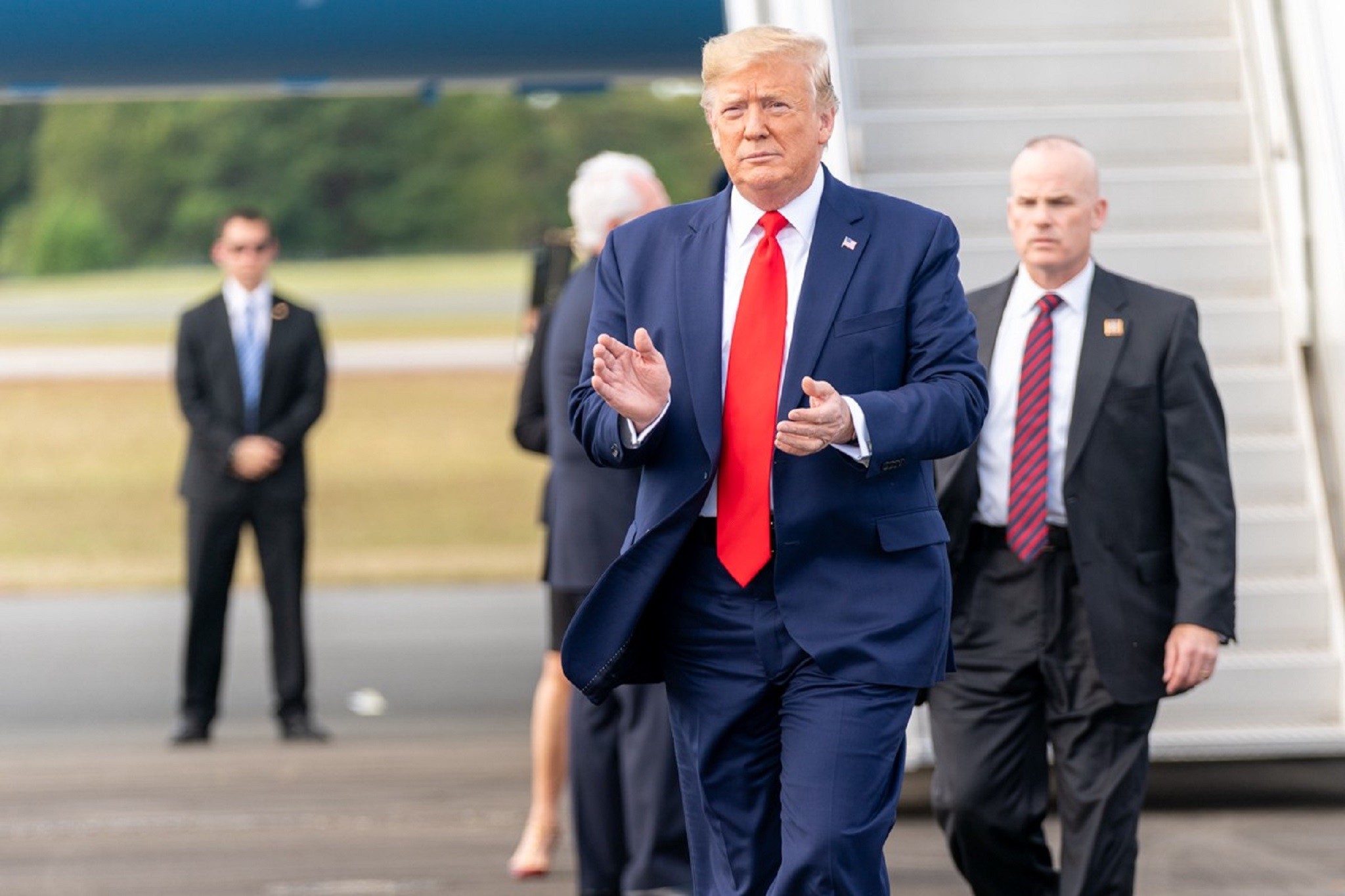 President Donald J. Trump points to the crowd and claps his hands as he disembarks Air Force One Thursday, Oct. 3, 2019, upon his arrival to Ocala International Airport en route to visit The Villages, FL. (Official White House Photo by Shealah Craighead)
Money talks, as they say. Everything else walks.
Moviegoers may enjoy the improbable murder mystery. Serial killers may be having a moment between Netflix and Quentin Tarantino's newest film, the macabre human inclination toward rubber-necking being likely to blame for this strange fascination.
But by and large most crimes are committed for money.
That is why "follow the money" is an old detective's adage; the vast majority of the time following the money leads to the answer. Police work isn't as exciting as it is in the movies; much of it is done behind a desk following a trail of who benefitted and why.
Following the money is always very revealing, more so that other things more subject to manipulation and interpretation.
Such as political polls.
There is something pure about crunching the numbers; numbers are beyond right and wrong. Figures on a balance sheet mean something concrete, something easily measurable.
It is with this in mind that we must dispassionately compare public disclosures on campaign fundraising numbers for the third quarter 2019. These figures have been trickling out all week, with various candidates announcing at different times.
Now, however, a full picture is starting to emerge about the latest Democratic overture toward impeachment and what it might mean for Democratic candidates in the upcoming election.
For Democratic candidates and presidential hopefuls, it is a grim picture.
Sen. Elizabeth Warren raised $25.7 million. Sen. Bernie Sanders raised $25.3 million. Mayor Pete Buttigieg raised $19.1 million; former Vice President Joe Biden, $15.2 million. Sen. Kamala Harris raised $11.6 million and Sen. Cory Booker $6 million.
Donald Trump and the RNC raised $125 million. This is way up from the record-breaking $105 million they announced in the second quarter.
Nor is that the worst of the bad news for Democrats facing a practically un-winnable battle removing Trump from office.
The September jobs report is out and the numbers aren't in Democratic Party favor there either. The U.S. added 136,000 jobs in September, and the unemployment rate has reached a 50-year low. The unemployment rates for Hispanics and African Americans have dropped to the lowest level on record.
Job gains for August and July were revised up by a rosy 45,000 combined.
This robust report has punctured the balloon of a Trump-driven recession looming just around the corner. Consumer spending remains strong.
There is one more set of numbers that should be worrying Democrats very much today in the wake of this latest impeachment gambit against the Trump administration.
The President's approval rating.
Trump's approval rating has climbed amid the Ukrainian scandal fallout and impeachment buzz. And his disapproval rating has dropped.
It is unclear, at this point, even to political experts, just what Democrats hoped to accomplish by moving forward on impeachment.
But it might be safe to assume that those Democratic hopes did not include record fundraising numbers and better approval ratings for Republicans and Donald Trump.
(contributing writer, Brooke Bell)