Called "life-saving" by its proponents, ExoFlo aims to fulfill an urgent unmet need in currently available COVID-19 therapies. Does it work?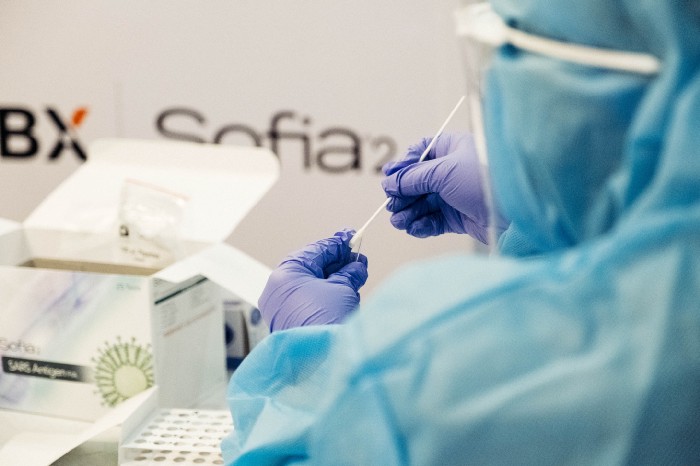 Since the start of the COVID-19 pandemic, research teams and pharmaceutical companies around the world have sought therapies and treatments that exhibit antiviral activities against the virus and its more severe symptoms.
According to research, of individuals hospitalized with COVID-19, about 30%–40% will develop COVID-19 associated acute respiratory distress syndrome (ARDS), and nearly 70% of fatal cases involve this complication.
ARDS occurs when fluid builds in the air sacs of the lungs. It results in severe shortness of breath, often leaving patients with ARDS unable to breathe on their own and dependent on ventilator support to help circulate oxygen in their body.
A potentially life-saving therapy from Direct Biologics called ExoFlo has emerged as a promising new treatment for the exaggerated inflammatory response associated with severe COVID-19 and ARDS.
One of the product's earliest advocates, Dr. Vik Sengupta of New York, credits ExoFlo with saving his own life when he was diagnosed with COVID-19.
"We were all exhausted, working multiple shifts during the worst of the early days of the epidemic when the New York area was hit so hard," Dr. Sengupta recalled of his first experience with ExoFlo. "A friend asked me if I could help her elderly parents, both in their 80s and both very ill with COVID-19."
According to Dr. Sengupta, one of the elderly parents was admitted to the hospital but the hospital administration refused permission to treat her with ExoFlo. She later passed away from COVID-19 in the hospital.
Her husband was rapidly declining and suffered from a fever, hypoxia, delirium, diarrhea, no sense of taste, and lack of appetite. He received ExoFlo at home without any adverse reactions, becoming the first documented patient in medical history to be administered an exosome-based treatment for critical respiratory illness. Despite the severity of his several symptoms, the patient was reportedly "out of bed and singing" within two days of receiving ExoFlo.
Dr. Sengupta soon fell victim to COVID-19 himself and noted that he "became seriously ill fast." Dr. Sengupta said that he woke up in the middle of the night struggling to breathe and checked his O2sat, realizing he was going into respiratory failure. He called his wife who left her shift at the hospital and promptly administered ExoFlo at their home.
"Within 24 hours my supplemental oxygenation requirement, fever, and respiratory symptoms significantly improved," he continued. "And within five days of that single dose, I was almost fully recovered from the acute infection. I firmly believe that ExoFlo saved my life."
Dr. Sengupta has since used ExoFlo as a treatment on many critically ill patients, shared it with colleagues. He also co-authored a clinical safety trial conducted at Christ Hospital with his wife, Dr. Sascha Sengupta, as part of the therapy's FDA approval process.
"The most common cause of death among critically ill COVID-19 patients is acute respiratory distress syndrome, or ARDS, in which the lungs are badly damaged, scarred and filled with fluid," Dr. Sengupta explained. "This is essentially a result of the body reacting to a threat by overproducing cytokines and other mediators of inflammation that cause damage to the lungs and other tissues in the body in a phenomenon commonly known as the 'cytokine storm.'"
"ExoFlo does two important things," he continued. "It remediates the inflammation almost immediately by delivering miRNA that stop the inflammatory cascade, and it delivers growth factors that promote the regeneration of healthy lung tissue for a much speedier recovery."
ExoFlo, developed by Direct Biologics in Austin Texas, is an investigational new drug that represents a meaningful therapy in the fight against the deadly lung inflammation caused by COVID-19. The regenerative medicine product uses extracellular vesicles and growth factor proteins isolated from human bone marrow mesenchymal stem cells (MSCs) to reduce inflammation and direct cellular communication capable of strengthening the body's defenses and advancing its healing processes.
ExoFlo recently completed a Phase II clinical trial that expanded upon previous findings from a prospective, open-label study which was led by New York City physician Vikram Sengupta, MD, in collaboration with Sascha Sengupta, MD, and Angel Lazo, Jr, MD.
In that initial trial, 24 critically ill patients with ARDS caused by COVID-19, many of them entering or in the midst of the inflammatory state cytokine storm, were treated with a single intravenous dose of ExoFlo. ExoFlo reversed hypoxia in 17 out of the 24 patients, who were then discharged within 5–6 days.
"This product could not have come at a better time," noted Dr. Angel Lazo Jr. of New Jersey. "This product also opens the door to medical solutions for post-pandemic concerns, when there will be an urgent need to address COVID-19 survivors suffering from Post-Acute COVID Syndrome (PACS), often referred to as long-hauler COVID, and to remediate compromised immune systems and likely lasting pulmonary scarring."
In October 2020, the FDA granted Direct Biologics an expanded access protocol for its product ExoFlo in the treatment of patients with COVID-19 associated acute respiratory distress syndrome (ARDS). Expanded access makes ExoFlo available to a larger group of patients with severe COVID-19, many of whom would not meet acceptance criteria for EXIT COVID-19, often under conditions of "compassionate use."
The safety data from this study set the stage for the FDA approval of ExoFlo for an Investigational New Drug (IND) application for COVID-19. Since FDA approval of an expanded access protocol, ExoFlo is being utilized by physicians around the country as part of single patient emergency or compassionate use protocol, commonly referred to as eIND.
"The COVID-19 pandemic has presented doctors with a heartbreaking learning curve," said Dr. Sengupta, who has since become Direct Biologics' chief medical officer. "For months we had no choice but to stand by while patients died despite our best efforts to save them. It's an incredible relief now to have ExoFlo in our arsenal of treatments."
Direct Biologics is a 21 market-leading cGMP manufacturer of regenerative medical products based in Austin, Texas. The company was created to expand the science of regenerative healing by delivering cutting-edge biologic technologies.
(contributing journalist, Allegra Nokaj) (contributing writer, Brooke Bell)