If you build it, they will argue: Super Bowl 2019.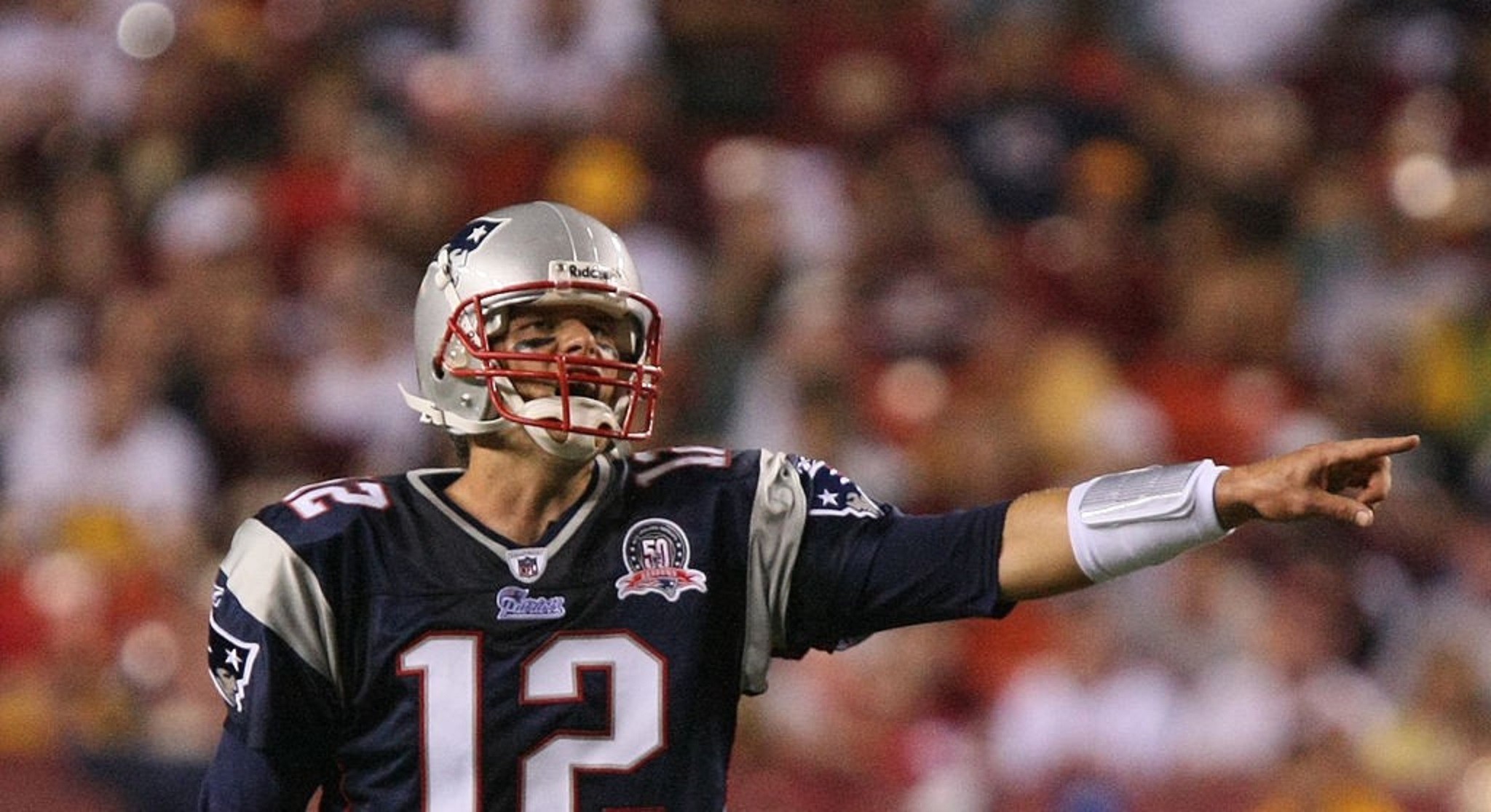 Tom Brady, New England Patriots at Washington Redskins 2009. (photo: Keith Allison)
Are You Ready for Some DRAMA?
More people will watch the Super Bowl tomorrow than the State of the Union address next week, amid about as much drama and controversy.
When the New England Patriots and the Los Angeles Rams take the field Sunday, it will be in front of a projected crowd of over 75,000 people and an international television audience of over 110 million.
But Sunday's match-up isn't the game everyone really wanted to see.
Kansas City Chiefs v. New Orleans Saints
The game that might have been.
Americans would likely be watching the New Orleans take the field on Sunday, were it not for a badly botched pass interference no-call in the waning minutes of their qualifying game against the Rams, allowing the Rams to advance to the big game.
The entire New Orleans Saints fanbase is boycotting the Super Bowl this year in protest of the missed call which many considered unfair.
The L.A. Rams aren't the only ones facing detractors on Sunday. Not everyone is a fan of the New England Patriots, coach Bill Belichick and quarterback Tom Brady: A close friendship with the President of the United States doesn't mean what it once did.
In addition, the Kansas City Chiefs kingdom is still unthawing from a brutally heartbreaking loss to the Tom Brady led Patriots two weeks ago.
The future is bright for the Kansas City franchise, not heretofore a frequent serious contender for the Super Bowl, with their standout star and MVP quarterback being only 23 and at the beginning of what looks to be a promising career.
Some Americans will tune in to see if this is Tom Brady's last ride into the sunset, or if the youth and energy of the Rams can topple a dynasty and crush Brady's hope for another Super Bowl ring.
Backfield in Motion
Companies from Amazon to WeatherTech have spent billions producing commercials designed to get you right in the feels and in the values-system.
Cue the corporate virtue-signaling.
Bad-boy corporate virtue-signaler and erstwhile environmental enemy number one, Procter & Gamble owns the brand "Olay" and is not likely to miss such a golden opportunity to show liberal Democrats in America how much they, ahem, care about women and the planet and stuff.
Especially after their recent controversial Gillette ad got so much free press.
The cost to run a television advertisement during the Super Bowl has doubled since 2007's 2.4 million dollars per 30-second commercial seemed like a staggering sum.
This year's advertisers spent an average of 5.25 million for a 30-second spot.
Flag on the Buffet
In addition to watching the big game on Sunday, football fans will be hitting the buffet like they are living vicariously through a 300-lb. body-building linebacker.
Americans will completely ignore the recent findings of a ground-creakingly huge and rigorously conducted study advising them against it and eat 1.38 billion chicken wings and 30 million slices of pizza. They will then use 325 million gallons of beer to wash down 9,200 tons of chips.
No significant studies on dip.
Read an article called "How much do Americans eat on Super Bowl Sunday? The answer is staggering" and watch how it appears directly beneath an ad for Pepsi.
Half-time and Holding
Performing at the Super Bowl, once the dream of aspiring young musicians everywhere and considered a tremendous honor, has fallen deeply out-of-fashion in 2019.
It all boils down to Colin Kaepernick's famous kneeling protest of police brutality in America during the National Anthem. The Super Bowl halftime show controversies, explained.
After the NFL cracked down on such on-field protests after backlash from patriotic fans, though they later walked-back the crack down, many began voicing criticisms of the organization.
Since Kaepernick failed to have his contract renewed by the NFL, a hewn cry has gone up from activists who see the move as NFL power-brokers trying to silence Kaepernick.
The list of performing artists who won't be caught dead holding a microphone at the 2019 Super Bowl has grown in recent months, as more and more of today's most popular artists have turned down the gig.
This year's high-risk, low-reward honor will go to Maroon 5, with special appearances by Big Boi and Travis Scott; all of whom have endured criticism and resisted pressure in the past weeks to drop out of the project.
Maroon 5's Adam Levine 'Listened To Myself' Before Taking Super Bowl Halftime Gig: Other big-name artists, including Rihanna and Cardi B, reportedly turned down performing because of their support for Colin Kaepernick.
Super Bowl LIII Halftime Controversy Continues, As Colin Kaepernick Attorney Attacks Adam Levine.
Eternal singing-Queen Gladys Knight will open the festivities by singing the National Anthem, gracefully riding the wave of backlash by reminding today's social justice warriors just how long she has been battling discrimination in America and what earlier African-American musicians had to go through for her to sing the National Anthem at the Super Bowl in 2019.
"I understand that Mr. Kaepernick is protesting two things and they are police violence and injustice. It is unfortunate that our National Anthem has been dragged into this debate when the distinctive senses of the National Anthem and fighting for justice should each stand alone."

"I am here today and on Sunday, Feb. 3 to give the Anthem back its voice, to stand for that historic choice of words, the way it unites us when we hear it and to free it from the same prejudices and struggles I have fought long and hard for all my life." — Gladys Knight, in a statement to "E! News"
The kneeling protests may be over- for now- but the fight continues as many activists, organizations and celebrities are encouraging a mass boycott of tomorrow's big game.
Major Foul
Not everyone is there to have a good time and enjoy the game, or even revel in the drama.
This year, fighting human trafficking during the Super Bowl has become a central issue. The massive crowds and ready cash are a draw for the unscrupulous. Police, stadium employees and fans alike have been through training programs teaching them to identify the signs of trafficking and massive, state-of-the-art surveillance systems will make it even more difficult for potential perpetrators to operate.
The 2019 Super Bowl will be held at the new Mercedes-Benz Stadium in Atlanta, which opened in 2017, and Atlanta is Ready for the Super Bowl, says Mayor Keisha Lance Bottoms.
New England Patriots v. Los Angeles Rams
The game America deserves; the ball never lies.
Whether you are a die-hard sports fan or a fair weather watcher only interested in the commercials and the food, may Super Bowl 2019 be a safe one for everyone.
(contributing writer, Brooke Bell)