A violent storm unleashed a tornado swarm across six states on Friday, leaving many dead, injured, missing, and homeless.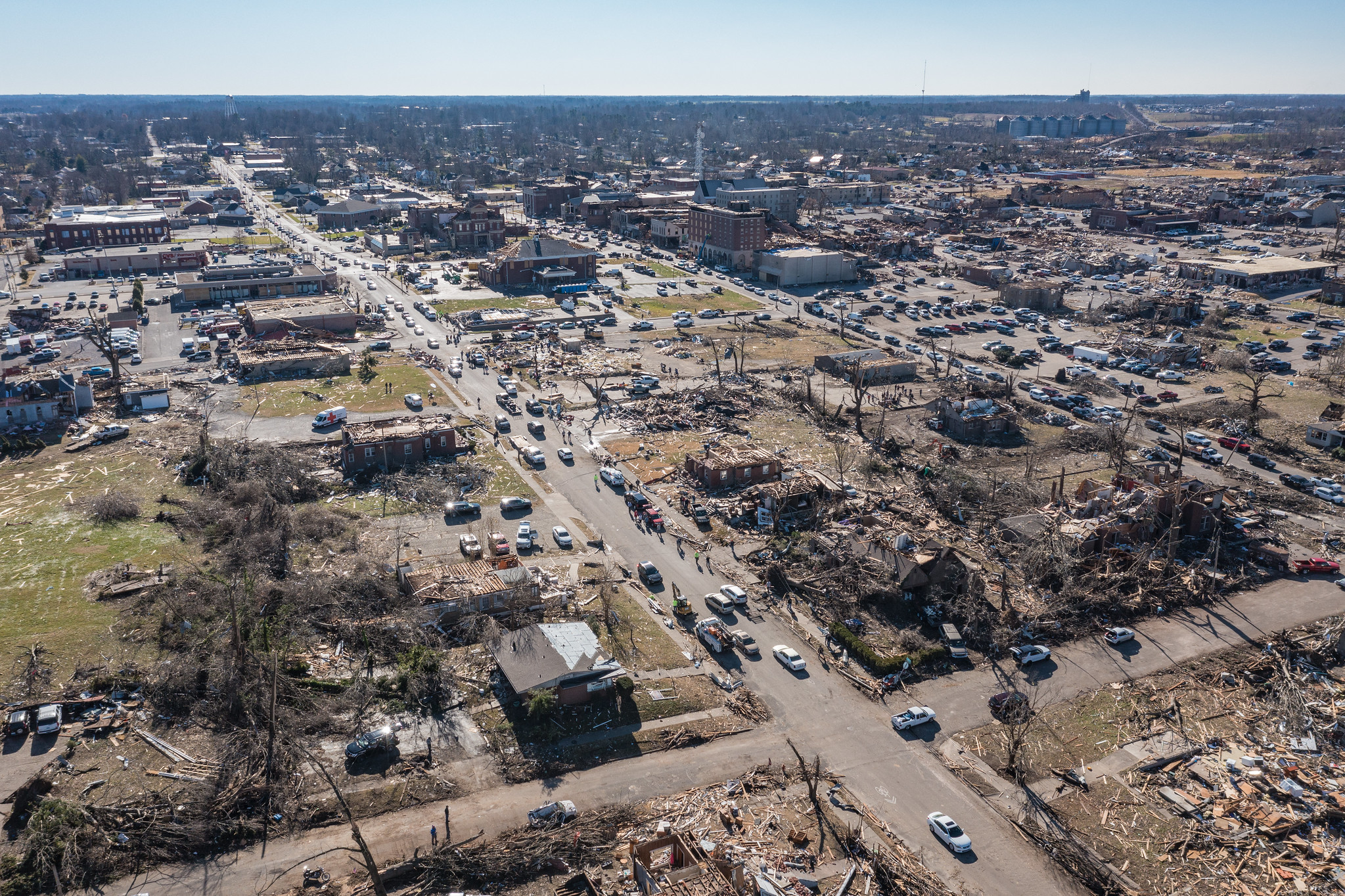 "The devastation is unlike anything I have seen in my life and I have trouble putting it into words," Kentucky Governor Andy Beshear told reporters at a press conference, one day after a series of deadly tornados scoured entire towns from the Kentucky countryside.
At least 50 tornadoes were reported across six states late Friday night, with Kentucky by far being the hardest hit.
In Illinois, six people were killed when a tornado collapsed the walls and roof of an Amazon factory. Tennessee is reporting four people killed by the storms; Missouri and Arkansas have also reported casualties.
In Kentucky, thousands of families have been displaced from their homes which, in many cases, have been completely destroyed. They are in need of help, of places to go; and they are receiving it.
Everyone from President Joe Biden, to emergency agencies, to local first responders has risen to the challenge of this terrible tragedy, providing immediate aid and pledging support and assistance in the days, weeks and months to come.
Teams of rescuers have worked tirelessly against the clock since the disaster struck. Calls from victims trapped in collapsed and collapsing buildings spurred on a relentless search and rescue mission still underway.
The extent of the devastation is difficult to believe, even if readily-available drone footage has made it all too real.
Tornadoes aren't unknown in the region, though they aren't typical of December. The local historians of Mayfield, Kentucky- one of the towns hit hardest by Friday's storms- remember the twister that "flattened Bardwell, the Carlisle County seat, in 1917."
In 1974, a "Super Outbreak" of at least 148 tornados lasted 18 hours, killed 319 people and injured 5,484. An even bigger Super Outbreak occurred in 2011.
The storm season of 2021, even occurring as it is in December, is likely to make its own grim mark on the historical record.
As of a Monday afternoon news release, fifteen more victims had been added to the death toll from Warren County, Kentucky, including two infants and a toddler.
The names and ages of the victims, as reported by CNN's Jennifer Henderson, are a stark reminder of what a disaster like this can mean for small communities and entire families:
"Cory Scott (27 years old); Mae F. White (77 years old); Victoria Smith (64 years old); Rachel Brown (36 years old); Steven Brown (35 years old); Nariah Cayshelle Brown (16 years old); Nolynn Brown (juvenile, no age given); Nyles Brown (4 years old); Alisa Besic (adult, no age given); Selmir Besic (juvenile, no age given); Elma Besic (juvenile, no age given); Samantha Besic (infant); Alma Besic (infant); Robert Williams, Jr. (65 years old); Say Meh (42 years old)."
The shared family names of the people killed, adults and children, paint a terrible truth; even the missing age information is an indicator of the level of devastation and tragedy.
Other deaths were reported Monday in Graves County, Hopkins County, and Franklin County. Authorities, including the governor, are warning citizens to be prepared for more victims as search and rescue efforts continue.
"I'm not doing so well today," the Governor remarked during a press briefing on Monday, making a visible effort to keep his composure as he tried to give reporters some of idea of the rising death toll.
As of Monday evening, 74 people in Kentucky were killed by the storms, according to the Governor's most recent press conference- with another 109 people still missing.
"We're going to grieve together, we're going to dig out and clean up together, and we will rebuild and move forward together, "Governor Beshear said of his fellow Kentuckians. "We're going to get through this together, because that is what we do,"
(contributing writer, Brooke Bell)