From coast to coast, the Democratic Party has hit a run of bad luck.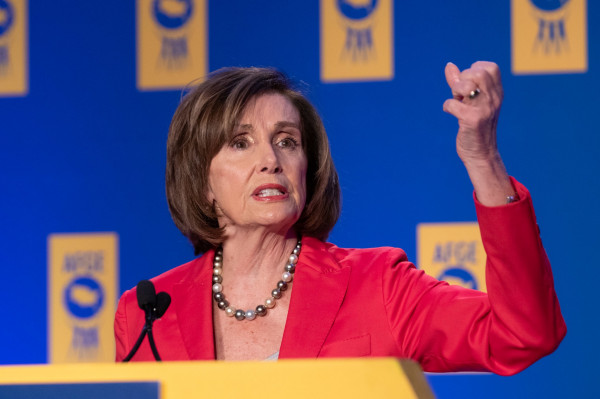 Even before the disastrous events in Afghanistan, the mid-terms were shaping up to be a rough election for Democrats.
This is not because future Democratic Party presidential hopeful and current California Governor Gavin Newsom is facing a serious recall in a state with only 24% registered Republicans.
It is true that, across the state, plenty of California Democrats are preparing to vote "no" on retaining Gov. Gavin Newsom. A Republican governor, they argue- if it comes to that- will at least be held in check by a Democratic supermajority in the state legislature. Voters don't seem to feel as confident in whatever is keeping California's Democratic Governor in check.
From prominent California Democrats endorsing conservative radio personality Larry Elder, to "Recall Newsom" being paged at LAX for a full five minutes this week ("Recall Newsom, please meet your party at the courtesy desk."), the signs for Newsom haven't been good.
However, most of Gavin Newsom's many wounds in California are self-inflicted, and may not have much to do with the Democratic Party proper. One prominent Democrat who cut a campaign commercial for conservative Newsom challenger Larry Elder still considers herself a Democrat. As do many others who are still seriously considering a "no" vote on the question of recalling Gavin Newsom.
Newsom's problems- his disastrous maskless dinner party at French Laundry, failing to list himself as a Democrat on his recall paperwork, allowing upwards of $11 billion dollars, and perhaps twice that amount, to be stolen from state coffers overflowing with pandemic relief funds by criminals in other countries, sending his kids to private schools which stayed open while he kept public schools firmly shuttered, refusing to allow any other California Democrats to run a backup campaign in case he loses- aren't what is making Democratic Party leadership most nervous.
In several important swing districts, incumbent Democrats have announced their intention not to seek reelection in 2022. Prominent Democrat Rep. Cheri Bustos announcing her decision not to seek reelection was a blow; Rep. Ron Kind's recent announcement that he too will be stepping down at the end of his term was a bigger one.
It was this retirement which House Minority Leader Kevin McCarthy recently cited as the moment he started to feel really confident about Republicans taking back the House in 2022.
Putting Nancy Pelosi out of the business of the Speakership is a plum prize which would go a long way towards soothing Republican voters still smarting from Trump's defeat in 2020. It is the fondest wish of many House Republicans, especially after the past two years, to see McCarthy wrest the Speaker's gavel from Pelosi.
Democratic Party strategists are already warning that the Republican base is enthusiastically turning out to vote.
Across the country, other Democrats seem to be struggling badly as well, though many in the media are still working hard to make sure equal attention is paid to the many Democratic Party successes.
In Atlanta, popular first-term Mayor Keisha Lance Bottoms announced recently that she will not be seeking reelection. After assuring Atlanta citizens that her reasons did not include fear of defeat at the ballot box, Mayor Bottoms really didn't offer much by way of explanation.
In Virginia, where former Democratic Governor Terry McAuliffe is squaring-off against Republican challenger Glenn Youngkin in a very tight race, an error in McAuliffe's paperwork could cost him everything.
The Virginia Republican Party has sued McAuliffe for failing to sign the paperwork he filed in order to run. Worse for McAuliffe than this embarrassing oversight, the two signatory witnesses required to witness the candidate's signature both signed the document.
Fixing this error could go about as well as Gavin Newsom's attempts to fix his own filing oversight after the fact.
When he filed his recall paperwork, Newsom failed to include his political party. One unsuccessful legal attempt to correct this error later, and Newsom is not listed as a Democrat on the ballots Californians have been receiving in the mail.
On the opposite coast, Democrats hoping to put Andrew Cuomo firmly in the rear view mirror were deeply disappointed this week.
In New York, though the ultra-competent Kathy Hochul has recently taken over the seat of governorship, the ghost of Andrew Cuomo's administration continues to haunt the office.
Governor Hochul, true to her word to bring a cleansing transparency to New York's highest executive office, released the damning results of an audit into Cuomo's controversial nursing home policy- and his administration's attempt to cover up the number of deaths for political purposes- on her very second day as Governor.
The new report adds an additional 12,000 previously undisclosed deaths to a list of nursing home patients who succumbed to COVID-19 after the virus was introduced into the vulnerable population by the Gov. Cuomo's policy.
As other politicians have discovered to their cost, it isn't the bad policy that usually gets you; it's the cover-up.
New York is very lucky to have someone as fearlessly committed to doing the right thing as Gov. Hochul. That she is more interested in getting the truth out into the open than running interference for her former boss is a triumph for New Yorkers. Between Hochul, likely New York City Mayor Eric Adams, and NY Attorney General Letitia James, New York may soon be experiencing a firm trifecta of leadership capable of accomplishing any number of exciting goals for the state.
The personal behavior of Andrew Cuomo aside, this covering up of nursing home deaths in New York may end up being a much bigger scandal. As it isn't just going to go away, exposing it is the only way to expunge it, and Hochul is wise to waste no time in doing so.
But Andrew Cuomo, that consummate politician, had a very good reason for concealing the high number of nursing home deaths in New York; it is a huge political liability.
Cuomo hid the number because he was concerned then-President Donald Trump would have used the information against Cuomo, and against other Democrats, in the impending election- as indeed he would have
The high number of nursing home deaths in New York due to COVID-19, which is so much higher than that in other states which did not have such policies, remains a political liability. Less so for the Democratic Party now that Andrew Cuomo is gone, but it is still a problem.
Democrats targeting their new public enemy number one Gov. Ron De Santis- provided the old public enemy number one is really gone- are going to have a harder time with the glaring failures of the Cuomo Admin such a convenient distraction. By comparison, though Democrats are loathe to admit it, De Santis did a much better job managing his state during COVID-19, and, it must be admitted, faced a great deal more media scrutiny.
It is still a long way from November 2022, though in many ways the election is already happening in small races, special elections, and recall efforts. But, as we've seen this week, anything could happen between now and election day.
As evidenced by the spectacular rise, and equally spectacular fall, of New York's former Governor Andrew Cuomo, political fortunes can- and often do- turn on a dime.
(contributing writer, Brooke Bell)