Everything should be coming up roses for Democrats. Why isn't it?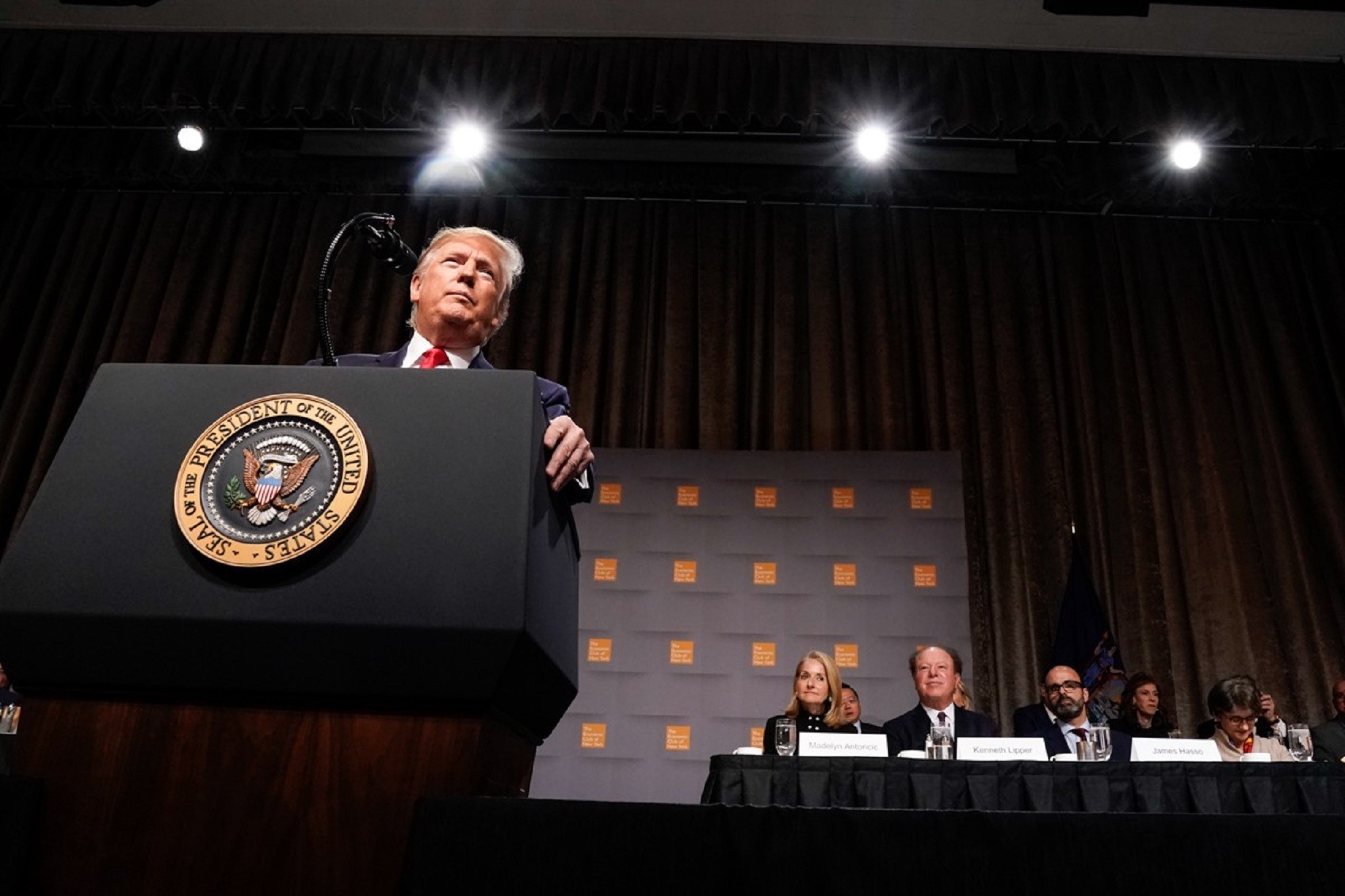 President Donald J. Trump addresses his remarks to the Economic Club of New York Tuesday, Nov. 12, 2019, at the New York Hilton Midtown in New York. (Official White House Photo by Shealah Craighead)
Impeachment Isn't Going Well
That Democrats have been trying to impeach Donald Trump since before he even took office isn't exactly a secret to anyone, right or left.
In Congressional committees, in New York City courtrooms, in backrooms across the nation, a cabal of wealthy, powerful and elite Democrats have been busily trying to unseat Donald Trump for well-nigh on three years now.
That they have done so completely out in the open, with the full faith and force of progressive liberal Democrats and the press behind them, is also without question.
Indeed, for many freshman members of the Democratic House caucus, impeaching Donald Trump is the very reason they were sent to Congress in the first place. Impeachment was one of their central campaign promises.
But even Democratic darling Rep. Alexandria Ocasio-Cortez, who is as outspoken against Trump as anyone, doesn't seem to expect the new proceedings that began publicly this week will amount to much more than hurting Trump in the next election.
Which, for many Democratic voters, is a perfectly reasonable excuse to indulge in a little melodramatic political chicanery and ham for the cameras. Democrats have to win elections, too, you know.
This is good, because honest Democrats in the press and in the House were forced to admit today that no bombshells have been unleashed in the testimony so far. At least, no bombshells beyond what is already known about the central premise of this impeachment effort.
On the right, the prevalent attitude seems to be: "Is this it?" On the left, the attitude is more: "It's something!"
That impeachment isn't likely to go much further than the House seems all but certain, which is rotten piece of news #1 for Democrats this week.
The Democratic Presidential Field is Fraught
The second piece of terrible news for Democrats this week, is the moratorium just issued and reissued about the current crop of Democratic contenders for President.
With much fanfare and raising of hands, sensible Democratic Senators and professionals came to publicly and forever embrace such dangerously left principles as to draw heartfelt pleas from everyone from House Speaker Nancy Pelosi to former Chicago Mayor and Obama guy, Rahm Emmanuel.
They all say the same thing: No Democrat can win in the general election promising to raise everyone's taxes to pay for free government run healthcare for everyone, free college, and open borders.
But the proof of the pudding is in the eating, as former Vice President and one-time Democratic front-runner Joe Biden recently said while touting the many headquarters the Biden campaign just opened and dismissing concerns about his anemic fundraising.
Meanwhile, the Trump campaign is running an all-digital, state-of-the-art, virtual campaign headquarters that organizes volunteers and staff without the expense of bricks and mortar. It is so advanced that two Democratic donors just spent $75 million to try and close the digital gap between the Trump campaign and his Democratic competitors.
The proof of the relative strength of the Democratic field came this week in the form of two serious candidates entering late into the race.
Billionaire and former NYC Mayor Michael Bloomberg is reportedly running, which is bad enough news for Biden, Buttigieg, Klobuchar, and any other current candidate with an eye on the moderate territory.
But there is much worse news for Joe Biden:
Former Massachusetts Governor Deval Patrick announced his 2020 candidacy this morning on Youtube.
Deval Patrick, incidentally, is a protege of former President Barack Obama. Patrick reportedly consulted former President Obama yesterday before announcing his run this morning.
Patrick might be the silver-lining for Democrats. On one hand, his entrance points to the weakness of the field. On the other hand, his entrance strengthens the field.
Obama allies have been trying to convince Patrick to run since 2018, and long before.
The Economy is Strong: No Recession is Likely
A report from the Fed shows a rosy outlook.
The DOW closed at a record high yesterday. Disney shares sprang up an astounding 7%, even on the heels of the media giant's bungled rollout of its new streaming service Disney+.
In good news for Democrats, the Fed is bucking pressure from Donald Trump over negative interest rates. In bad news for Democrats, the Fed is only bucking this pressure because the U.S. economy is in such good shape it doesn't need any help at this point.
This means rumors of a pending recession have been greatly exaggerated. It also means that, while their constituencies may be enjoying robust wage gains, income growth, and historically low unemployment, voters will likely credit these gifts to the Trump administration.
Trump may be the most imminently beatable political candidate in the history of the United States. Trump's economy, however, might be less easily countered.
Especially if the Democratic Party does end up with Sen. Elizabeth Warren or Sen. Bernie Sanders as the nominee, as both candidates have promised extensively to undo the Trump tax cuts that have spurred much of the recent economic growth.
Democrats not lulled into a false sense of security by the overly-optimistic assessments of the Washington Post on impeachment must be left wondering if next week is likely to be much better.
And if things might get worse for Democrats before they get any better.
(contributing writer, Brooke Bell)