Predictably, progressives and conservatives disagree about what has caused an energy resource-rich state like Texas to lose power.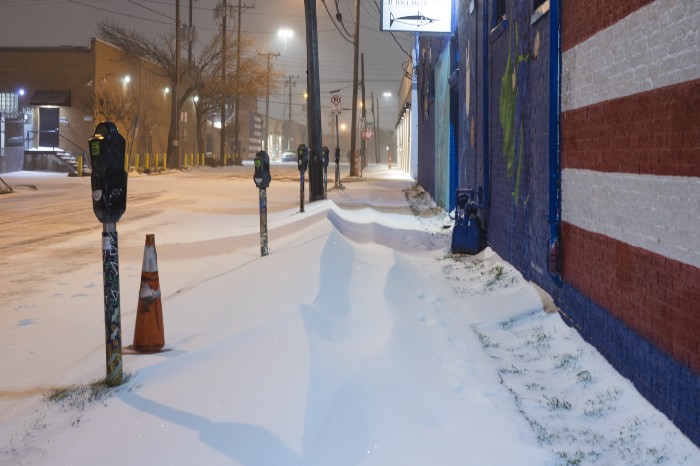 Over 4.3 million households and businesses were without power in Texas on Tuesday morning as a result of Monday's winter storm. Texans have experienced ongoing and rolling blackouts over the past few days due to winter storms and frigid temperatures, which have caused wind-powered generators to freeze.
The Electric Reliability Council of Texas, which manages power for about 90% of the state's electric load, warned on Tuesday that the number of controlled outages will continue throughout the state's weather emergency.
ERCOT said rotating blackouts occur when power companies cut off electricity to residential neighborhoods and small businesses, typically for 10 to 45 minutes before being rotated to another location. Traffic lights and infrastructure may also lose power during these blackouts.
The controlled-outages program began when wind turbines in Texas froze, cutting off a large portion of the state's wind generating capacity. Wind power is the state's second largest source of electricity. ERCOT said in a statement that the company is, "dealing with higher-than-normal generation outages due to frozen wind turbines and limited natural gas supplies available to generating units. We are asking Texans to take some simple, safe steps to lower their energy use during this time."
ERCOT issued recommended tips to reduce electricity usage including, "turn down thermostats to 68-degrees, close shades and blinds to reduce the amount of heat lost through windows, turn off and unplug non-essential lights and appliances, avoid using large appliances, businesses should minimize the use of electric lighting and electricity-consuming equipment as much as possible," and, "large consumers of electricity should consider shutting down or reducing non-essential production processes."
At least 11 deaths had been blamed on the storm as of Tuesday, according to BBC. The National Weather Service (NWS) said that more than 150 million Americans are now under storm warnings.
"Over 150 million Americans are currently under winter storm warnings, ice storm warnings, winter storm watches, or winter weather advisories as impactful winter weather continues from coast to coast," the NWS said in a statement. "Hundreds of daily low maximum and minimum temperatures have been/will be broken during this prolonged 'polar plunge', with some February and even all-time low temperature records in jeopardy."
Texas Gov. Gregg Abbott wrote in a statement on Twitter that the state's power grid, "has not been compromised."
"The Texas power grid has not been compromised," Gov. Abbott wrote on Twitter. "The ability of some companies that generate the power has been frozen. This includes the natural gas & coal generators. They are working to get generation back on line. ERCOT & PUC are prioritizing residential consumers."
On Monday, Gov. Abbott warned residents of Texas to stay at their homes and do their best to conserve energy.
"I encourage all Texans to continue to stay off the roads, and conserve energy as state agencies work with private providers to restore power as quickly as possible," he said in a statement.
Gov. Abbott issued a disaster declaration in all 254 Texas counties and requested a federal emergency declaration for Texas, which was approved by President Joe Biden on Sunday. Abbott warned that residents across the state would face freezing temperatures and "extremely harsh" winter weather.
Under the federal emergency declaration, the Department of Homeland Security and the Federal Emergency Management Agency will coordinate relief efforts designed to alleviate "hardship and suffering" caused by the extreme winter weather conditions.
"FEMA is authorized to identify, mobilize, and provide at its discretion, equipment and resources necessary to alleviate the impacts of the emergency. Emergency protective measures for mass care and sheltering and direct federal assistance will be provided at 75 percent federal funding," the Biden administration said in a statement Sunday.
The Texas governor announced the deployment of more resources to respond to the lack of power on Monday and has continued to update residents on the situation through social media.
Officials in Texas and representatives from Texas power companies have already begun the finger-pointing as each group scrambles to blame the other.
Republicans in the state have pointed to the unreliability of and over-reliance on wind energy as the cause. According to the Wall Street Journal, well-meaning but badly executed green energy strategies in Texas are to blame for the catastrophic power losses. Other states, the WSJ editorial board rightly points out, have experienced the same exact adverse weather conditions and haven't lost power.
Texas progressives disagree, blaming the lack of proper regulation and regulatory compliance for this disaster and insisting that more government control, rather than less, would help prevent problems like these in the future.
After suffering a power grid failure so catastrophic it was initially feared to be an intentional attack, however, which has endangered millions of people, perhaps voting Texans will demand honest answers.
For this terrible failure on the part of Texas officials and power company executives to supply the most basic municipal services for which the citizens of Texas pay through taxes and energy bills, there must be accountability.
(Contributing journalist, Allegra Nokaj) (Contributing writer, Brooke Bell)