The 29-year old Texas man has been held for over 18 months and is part of a very troubling pattern in Russia.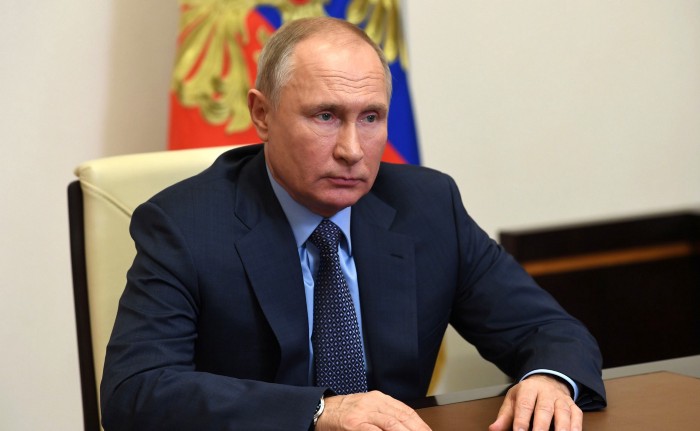 What the White House has called a "mockery of justice", and human rights organizations have denounced, lawmakers on both sides of the aisle have now moved to address.
29-year old Trevor Reed, who is a former U.S. Marine, was arrested by Russian authorities over 18 months ago on charges U.S. authorities say are meritless. Trevor Reed's family is relieved that President Biden is taking their son's detention seriously, an action they felt was seriously lacking under the previous administration.
"We do feel like a new dawn has approached us, and we're really, really hopeful," said Paula Reed of the increased scrutiny on her son's case.
Elected officials from Texas, including Rep. Michael McCaul, who is the ranking Republican on the House Foreign Affairs Committee, and U.S. Senator John Cornyn have been working towards Reed's release for a year.
"Texas native and former Marine Trevor Reed has been wrongfully detained in Russia on fabricated charges for 537 days," said Congressman McCaul in a joint statement with Rep. August Pfluger. "Congress will be watching and urges the Putin regime to end this outrageous sham and release Trevor immediately so he can return to his family."
Now that the Biden White House has also specifically asked for the release of Reed as a good faith gesture, his chances of returning home safely to the U.S. have greatly improved.
The U.S. and Russia are currently negotiating a nuclear agreement. Within that framework, asking for the release of someone Sen. Cornyn called a "political prisoner" is a savvy move by the Biden White House.
"Trevor Reed has been detained for far too long, for trumped-up charges that current evidence on file does not support," said Mr. Cornyn. "I cannot imagine what Trevor and his family are going through and I call on the Russian government to release him and all political prisoners."
"Doing so on the heels of extending New START would demonstrate Russia is ready to move past intractable issues within the bilateral relationship," said White House Press Secretary Jen Psaki of Reed's release.
Reed isn't the only person U.S. authorities are attempting to have released under the auspices of larger negotiations with Russia.
Paul Whelan is another former Marine currently being held in Russia, a common thread which U.S. authorities insist is not a coincidence. Whelan was also detained and charged in Russia on charges he says are spurious.
In the case of Whelan, they are also more serious.
Charged and convicted of espionage, Whelan is currently serving a 16-year sentence of hard labor. In the first interview he gave after his arrest, nearly two years after this conviction, Whelan professed his innocence and presented a grim picture of his life in a former gulag which has since been converted into a forced labor camp.
He also outlined a meticulous plot to frame him for espionage in a move his family and U.S. authorities claim was an attempt to seize him as a political bargaining chip.
"Right after he read the verdict, I went back to his chambers," Whelan said of the judge who presided over what Whelan repeatedly called a sham trial, "he was friendly, he actually told me on the day that I was sentenced that I would be sent home fairly quickly, that the Russian government had agreed to send me home. And it would be up to the two governments to work that out."
U.S. authorities believe Russian officials were, in arresting the two Americans, angling for the release of two Russians imprisoned in the U.S.
Viktor Bout, one of the world's best known arms dealers, was convicted of arms dealing and jailed for 25 years. Konstantin Yaroshenko was sentenced to 20 years on charges related to drug trafficking.
Whelan claims Russian authorities mentioned the two men specifically when he was arrested.
Parallels are being drawn between Whelan's plight and the arrest of Trevor Reed.
Trevor Reed was charged with assaulting a police office after a night of heavy drinking. According to court documents, Reed grabbed the arm of the police officer who was driving, causing them to swerve and endangering the lives of the officers.
Reed's family claims that traffic camera footage reveals no swerving. In addition, it was Reed's friends and his Russian girlfriend who called police in the first place, fearing Reed might hurt himself. They were following the police car to the station and all claim nothing amiss happened.
The police officers in question were fitted with surveillance equipment, as was the police car. Russian authorities have alternately refused to hand over the footage and claimed it was deleted.
U.S. intelligence authorities say Trevor Reed's situation is only too familiar to someone who understands how the KGB once operated in Russia.
"Now he's been in Putin's prison for more than a year for a crime that he absolutely did't commit," said Congressman McCaul after introducing bipartisan legislation last year to push for Reed's release.
"He's facing another nine years in a Russian labor camp," McCaul continued. "The fact that he is being held simply because he is a U.S. Marine is a tragedy of justice that should not prevail."
For Trevor Reed's parents, and the family of Paul Whelan, the change of administration bodes well. That their loved ones might soon be coming home must have begun to seem like an impossible dream under the Trump Administration.
Under the Biden Administration, and new U.S. Secretary of State Anthony Blinken, both Reed's and Whelan's chances of release seem to have been radically improved.
(contributing writer, Brooke Bell)