#AOCLied trended Wednesday after popular progressive Rep. Alexandria Ocasio-Cortez was accused of sensationalizing the riot.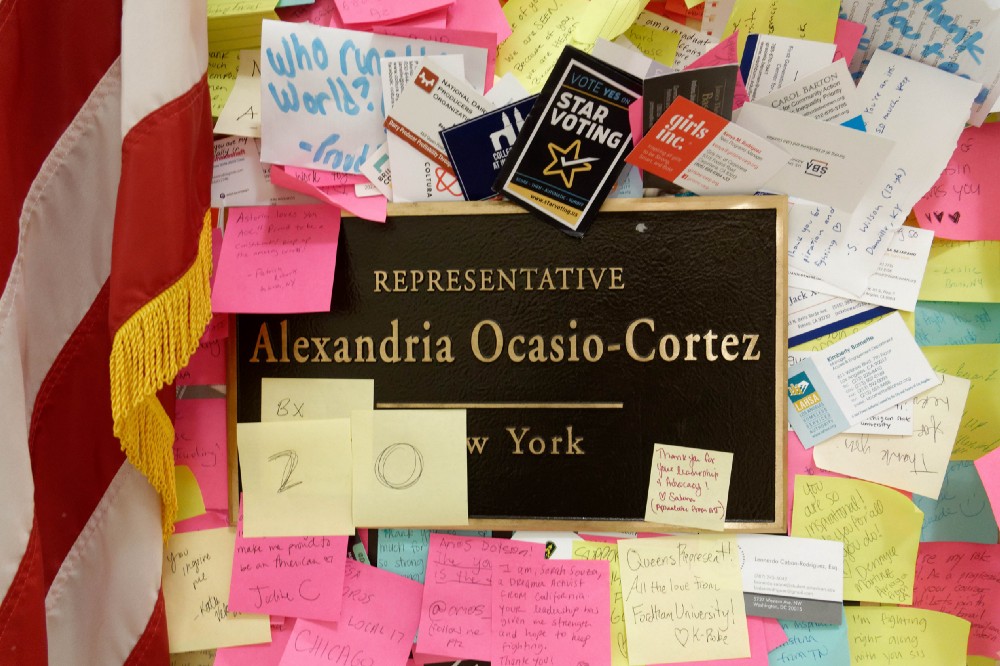 This week, Rep. Nancy Mace (R-SC) sharply criticized Newsweek over their recent coverage of the January 6th riot at the U.S. Capitol Building. Mace also criticized Rep. Alexandria Ocasio-Cortez (D-NY) for implying to Newsweek that insurrectionists stormed the hallway where both congressional offices are located.
Mace wrote on Twitter, "@AOC made clear she didn't know who was at her door. Breathless attempts by media to fan fictitious news flames are dangerous. My office is 2 doors down. Insurrectionists never stormed our hallway. Egregious doesn't even begin to cover it. Is there nothing MSM won't politicize?"
On Thursday morning, Rep. Mace again took to Twitter saying, "I'm two doors down from @aoc and no insurrectionists stormed our hallway."
Though Mace simply stated that there were no insurrectionists in the hallway, AOC responded that Mace's comment was "a deeply cynical & disgusting attack."
"As the Capitol complex was stormed and people were being killed, none of us knew in the moment what areas were compromised. You previously told reporters yourself that you barricaded in your office, afraid you'd be hurt."
"All I can think of w/ folks like her dishonestly claiming that survivors are exaggerating are the stories of veterans and survivors in my community who deny themselves care they need & deserve bc they internalize voices like hers saying what they went through 'wasn't bad enough[.]" Rep. Ocasio-Cortez continued in her response.
"This is where the true damage of what @NancyMace is doing comes in," AOC added.
"How many survivors are watching her? Who now, seeing her, won't get care or will feel further shame or silence? Who won't speak up bc they know there are voices in leadership ready to minimize their experiences?"
Mace fired back at Rep. Ocasio-Cortez, saying "*FACT CHECK* I have not once discounted your fear. We were ALL terrified that day. I'm stating the fact that insurrectionists were never in our hallway… because they weren't. I deal in facts. Unlike you, apparently."
Mace went on to emphasize that she did not try to discount Ocasio-Cortez's "experience."
"Hold up ✋ You seem to be triggered by facts so let me be clear: I have not ONCE discounted your experience. It was harrowing for all of us. FACT: Insurrectionists weren't in our hallways. It's your eagerness to politicize absolutely ANYTHING that deserves condemnation."
Mace responded to AOC's claims regarding victims of assault, saying, "But now, in typical @AOC fashion, you're making this political, even going as far as saying I don't "hear" victims of assault — ME, of all people. You don't know my story. SMH. Just stop it."
On multiple occasions, Rep. Ocasio-Cortez has said she feared for her life during the violent Jan. 6 riot at the Capitol. She posted an Instagram Live video on Monday night, recounting her first-hand experience of hiding in the bathroom of her congressional office after hearing loud banging and shouting. She then mentioned that it was not rioters banging at her door but a Capitol Police officer who entered her office to check on her.
Though AOC clarified it was a police officer at her door, Newsweek wrote: "Ocasio-Cortez said that rioters actually entered her office, forcing her to take refuge inside her bathroom after her legislative director Gerado Bonia-Chavez told her to 'hide, hide, run and hide'."
Two days after publishing the story, Newsweek issued a correction and wrote, "A previous version of this story stated that Ocasio-Cortez's office was entered by rioters. Ocasio-Cortez's office was actually entered by a Capitol police officer that did not identify himself. Newsweek regrets the error."
However, Newsweek kept the line in the article which read, "As members of the mob banged against the door, Ocasio-Cortez believed 'this was the moment where I thought everything was over.'"
Mace's criticism of AOC, though it got plenty of attention on Twitter, ins't likely to impact the popularity of the New York Congresswoman. AOC has become a kind-of political pop culture icon on the left.
Rep. Alexandria Ocasio-Cortez enjoys a large following online, and her Twitter supporters have already rushed to defend her from accusations that she exaggerated her experience at the Capitol, overwhelming the #AOCLied Twitter tag with cute animal photos.
A staffer for U.S. Sen. Bernie Sanders has also defended Ocasio-Cortez, corroborating her account of the events at the Capitol.
Lost in the kerfuffle between the two lawmakers, is what seems like very poor reporting on the part of Newsweek. During a time when trust in the media is at an all time low, at a level industry insiders fear is an extinction-event, a strict adherence to factual reporting is at a premium.
This is a time when the country can ill-afford a corporate press corp which seems dedicated to driving polarization, and political animus between the two parties, for the sake of ad-clicks. The cost of these viral political news stories may soon exceed their value in media revenues.
(Contributing journalist, Allegra Nokaj) (Contributing writer, Brooke Bell)