This holy Jewish season of Passover has been marred by a sobering report on antisemitic assaults and another deadly attack on the U.S. Capitol.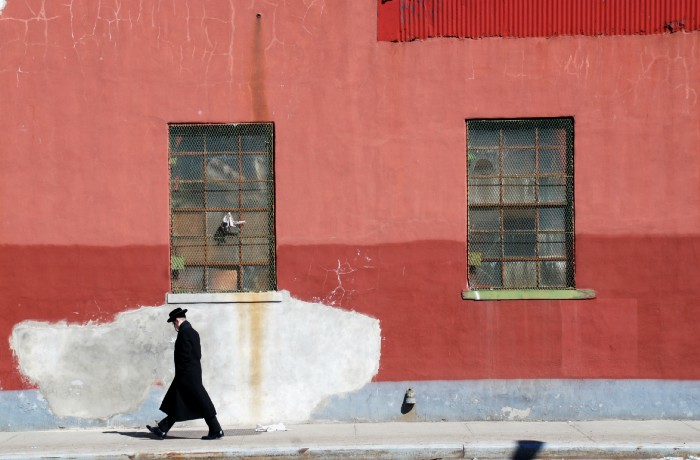 The U.S. Anti-Defamation League, long committed to civil rights issues and an outspoken champion of the American Jewish community against antisemitism, recently conducted a survey, the results of which might not surprise many Jews in America.
But it might come as a surprise to others.
According to the ADL's survey of 500 people, conducted March 31, 2021, 10% of American Jews report being the victim of an antisemitic assault in the past five years.
In the same survey, 63% of U.S. Jews reported witnessing or experiencing first-hand an antisemitic assault and 25% were verbally targeted with intimidation and threats. 33% of people who have been targeted in antisemitic incidents still report trouble sleeping at night.
A whopping 36% of American Jews report having experienced online antisemitism of some kind over the past five years.
According to the ADL's survey, 60% of Jewish people in the U.S. also report not feeling as safe in the their country as they did a decade ago. 50% are concerned their Synagogues and other faith centers will be targeted in violent attacks.
As a result of these fears, more and more Jewish people are avoiding any mention of their Jewish heritage and faith on social media for fear of antisemitic attention (13%) and avoiding Jewish organizations altogether out of safety concerns (6%).
Even more soberingly, some of these numbers represent an improvement over last year's similar ADL report. In 2020, 55% of American Jews were concerned about their places of worship being targeted and the reported rate of antisemitic harassment online was 43%.
"These findings reinforce the need of a whole-of-society approach to combat antisemitism," said Johnathan Greenblatt, CEO of the Anti-Defamation League. "Whether it appears on social media or in a Synagogue, antisemitism has no place in our communities."
Jewish people are a tiny minority in America- less than 3% of the populace, by some recent estimates. However, more than 60% of religious-based hate crimes in the U.S. are antisemitic in nature.
The International Holocaust Remembrance Alliance defines antisemitism in the following way:
"A certain perception of Jews, which may be expressed as hatred towards Jews. Rhetorical and physical manifestations of antisemitism are directed toward Jewish or non-Jewish individuals and/or their property, toward the Jewish community institutions and religious facilities."
Underscoring this upswing in antisemitism in the U.S. is the underreporting of hate crime incidents through the FBI's centralized reporting program. For local law enforcement, there is no unified definition of what constitutes a "hate crime" and incidents often go unreported by the victims themselves, even to local authorities.
In addition to high-profile antisemitic hate crimes, like the Tree of Life Synagogue shooting in 2018 which killed 11 people and the Poway Synagogue shooting in 2019 which killed one and wounded three others, there have been other incidents.
A Jewish cemetery was vandalized and Jewish graves defaced in 2017 near St. Louis, Missouri. A Jewish kosher deli was targeted in a violent attack in 2019 which killed 4 people.
Synagogues, Jewish schools, and Jewish-owned businesses were vandalized with antisemitic graffiti during the protests which took place after the killing of George Floyd in Minneapolis last May.
There have been other incidents as well, including an attack on an Orthodox Jewish reporter in Brooklyn and a recent stabbing attack on a visiting Orthodox Jewish family near Battery Park.
"Members of the Jewish community have told me they no longer feel comfortable wearing anything that is a symbol of their faith for fear of an attack," said New York's Mayor Bill DeBlasio. "It is absolutely unacceptable in a free society that anyone should have to feel that way- from any faith, any background."
Most recently, on April 2, a man who called himself a "Follower of Farrakhan" on his Facebook page, in reference to notorious antisemitic hate preacher Louis Farrakhan, rammed his car into a barricade at the U.S. Capitol.
As in the riot which occurred on January 6, 2021, one U.S. Capitol PD officer lost his life in the attack. Another officer injured during the assault is "fighting for his life" according to U.S. President Joe Biden.
The suspect, a man named Noah Green, was killed by Capitol officers as he allegedly attempted to attack police with a knife.
"The immediate healing of the community under attack depends on the actions taken by the local authorities," writes Gina Ross in the Jewish Journal. "When the public, officials and the media recognize and denounce the anti-Semitic attacks, victims feel supported. By contrast, they will feel more traumatized, isolated and cut-off from the rest of the population if these sectors do not show support."
Combatting the rise in antisemitism is certainly going to take a concerted effort. Nowhere is this more apparent than on college campuses in the U.S., where antisemitism has become more and more mainstream.
41% of college-age Jews report being the target of antisemitism or antisemitic attack; 82% say that antisemitism has increased over the past five years.
Considering some of the other findings of the survey, this isn't too surprising. 32% of college-age non-Jewish respondents didn't find the statement, "The U.S. government only supports Israel because of Jewish money" antisemitic. 39% thought saying "American Jews are more loyal to Israel than to America" was not antisemitic. 26% saw no problem with the statement "Israel has no right to exist."
"But in all those years," lamented Atlantic writer Gary Rosenblatt in March of 2020, of his decades-long journalism career covering antisemitism, "I never encountered such a level of palpable fear, anger, and vulnerability among American Jews as I do today, with attacks- verbal, physical, and, in two tragic cases, fatal- coming from the far left and the far right of our own society, and from attackers whose only common denominator is hatred of Jews."
"We had believed such worries were relegated to our brothers and sisters in Europe, with its centuries of Jew hatred and pogroms, culminating in the Holocaust," he continued.
"Now the attacks are the main topic of discussion among an American Jewish community shaken to its core."
(contributing writer, Brooke Bell)