A gunman wounded 7 and killed 2 people last night in a Chicago district where shootings are up 225%.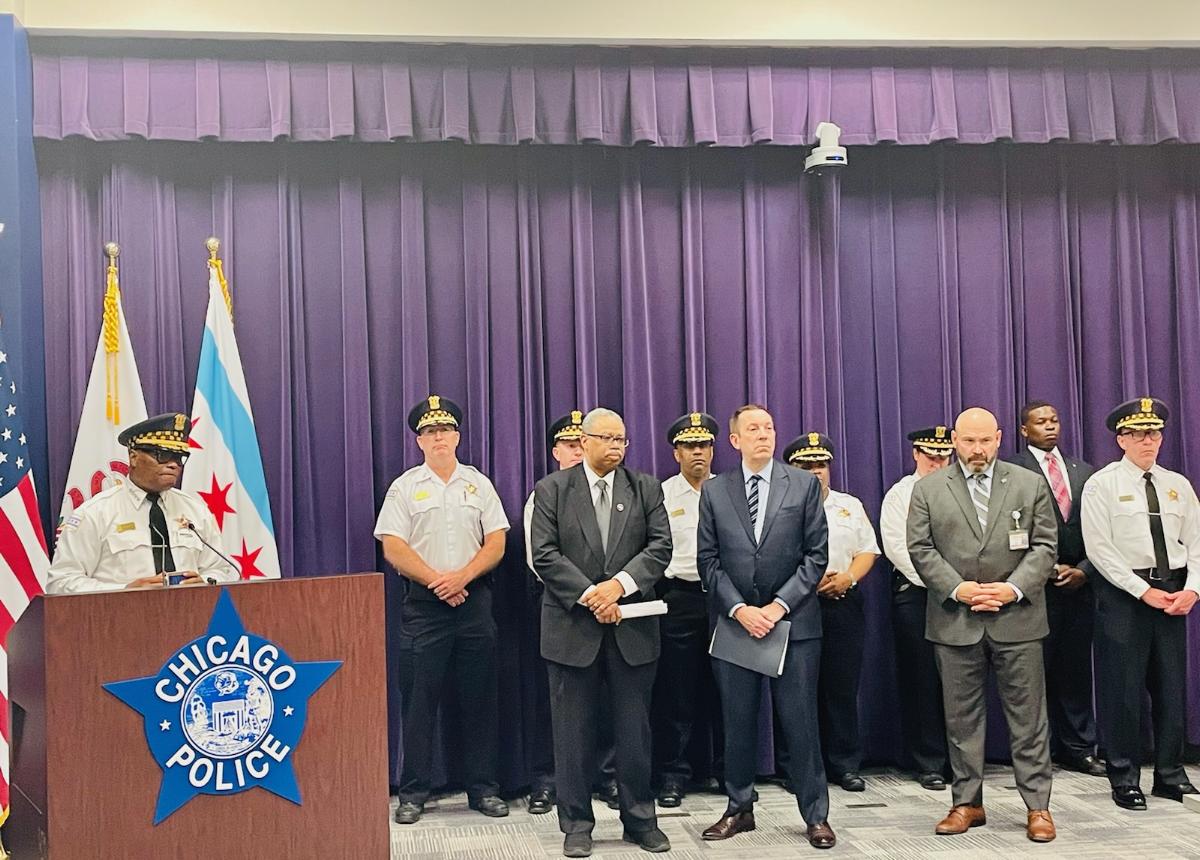 "At the 800 Block of North State Street, at approximately 10:40 PM, two groups of individuals were involved in a disturbance in this area," began Chicago Police Superintendent David Brown during a press conference
The "disturbance", outside of a McDonald's near Chicago Avenue and State Street, was captured on video.
"We see on video where a person with a gun fires into the crowd- basically this is a disturbance, a personal conflict- hitting nine people, killing two, wounding seven," Supt. Brown told reporters.
After the shooting, the suspect in the "disturbance" fled into the nearby Red Line station where he was arrested by police officers. One woman in her 20s sustained electrical burns from falling onto the tracks and was transported to the hospital in serious condition. One person tried to obstruct Chicago PD officers as they tried to arrest the suspect and were detained. A third person is still being sought in connection with the crime, according to police officials.
"Officers were very close last night, which is why they were able to apprehend the suspects so quickly," Chicago Mayor Lori Lightfoot told the press this morning when it was her turn at the podium.
Lightfoot has been enduring sharp criticism in the press today as this extremely high-profile shoot-out occurred on the first night of her recently instituted curfew.
"Your curfew was roundly criticized that it has no consequences, that it turns cops into taxi drivers," one reporter asked Lightfoot; "How do you answer that?"
"The city of Chicago has had a curfew since 1992," Lightfoot responded, calling such criticism "nonsense".
"We raised the age to 17, we moved the time from 11 to 10," she answered, adding, "there are consequences," to violating curfew and that, "officers have the right to arrest."
However, she repeatedly stressed that the purpose of the curfew is not to arrest dozens of young people.
The priority of Chicago PD officers enforcing curfew, according to Lightfoot is, "to make sure the kids violating curfew know that there is a curfew and that they are violating it," pointing out, "many didn't know there was a curfew."
"Officers go up to the children, they tell them there is a curfew, they ask them where they're going," Lightfoot explained. "Most of these young people are responsive and will follow the law and go home."
"The goal is not to have paddy wagons roll up and round up these young people, but to turn them into good citizens," she pointed out.
When asked what Chicago city officials intended to do to protect citizens and business from the rising tide of violence sweeping through Chicago, Lightfoot emphasized an increased police presence.
"I want these young people, if they're coming downtown, I want them to enjoy themselves but I want them to be safe," she answered. "I want them to see a police presence."
According to Lightfoot, the Mayor's office has been reaching out to residents and business owners, asking, "What do you need to feel safe?"
"Visible police presence has to be at the top of the list," Mayor Lightfoot told the press. "Fixed posts of uniformed officers at the intersection of State and Chicago and a separate fixed post in the Red Line station in the same area," the Mayor promised.
Mayor Lightfoot blamed the shooting on a fight that went out of control as a result of illegal guns in Chicago.
Shootings in the 18th district, where this one occurred are up 225% in 2022 so far, as the warmer months begin in Chicago. In the first district, which includes parts of Chicago's posh shopping districts downtown and the famed arts district, The Loop, shootings are up only 100%.
Chicago's rising tide of violence and property crime comes in the context of a worsening nationwide economic situation and the warmer weather months, which usually bring an uptick of crime under normal circumstances.
2022, however, can hardly be considered "normal circumstances". Forces are at work which could take Chicago's current crime crisis and turn it into something truly dystopian.
Higher fuel prices, along with a surfeit of news articles explaining the intricacies involved therein, are suddenly everywhere. For 11 days in a row now, national average gas prices have reached a new record high- with no signs of reversing.
The national average of $4.593 per gallon, as reported Friday by the American Automobile Association, is squeezing consumers already caught within the vice-like grip of higher inflation and a consumer price index that has swelled 8.3% compared to April 2021.
Ten years ago, the ultimate pain-point for working class consumers on a gallon of gasoline was $4 per gallon. In 2022, some market experts put that number at $5 per gallon. If they are right, and even if they are wrong, American motorists are being forewarned to expect that number and higher.
In California, gas is already approaching $6 per gallon. Analysts from JP Morgan are warning $6 may soon become the national average. Gas stations in Washington are reprogramming their pumps to prepare for $10 per gallon.
Given this factor and so many others, it's no wonder a majority of CEOs are expecting a recession to hit in 2023, if not before.
"Sixty-one percent of CEOs said economic conditions were worse than six months ago, up from 35% in the first quarter," reported the investment site, Investopedia, on May 19, 2022. "Thirty-seven percent of the CEOs said conditions in their own industries were worse than six months ago, up from 22% in the first quarter."
Even previously untouchable companies- Target, Walmart, Apple- are reporting dips in profits and experiencing major stock turbulence on Wall Street. And if those companies are having problems, small and mid-size business- already weakened by over two years of pandemic-related setbacks- must be on the brink of ruination.
"Rents in the U.S. just hit another record high," reported CNN this week with an unmistakable sigh. "The national median rent was $1,827 a month in April, up 16.7% from a year ago, according to a report from Realtor.com. Rent has been steadily increasing since early last year. If recent trends continue, the report projects the typical rent could be more than $2,000 a month by August."
There is no escape in the real estate market for those looking to buy a house, either, especially first-time home buyers, many of who have been effectively priced out of the market by a rapid surge in prices. Building materials for new homes have increased right along with the price of existing homes.
On one hand, property owners have seen their equity swell as their homes have appreciated in the current market; on the other, those same homeowners are about to be hit by higher property tax assessments.
It is a vicious cycle: Consumers squeezed by a wave of rising costs are closing their wallets, companies stricken by losing profits or marketshare are raising prices. If this keeps up, it won't be long until the layoffs start.
Netflix, the previously untouchable streaming giant, once the media David to Blockbuster's Goliath, has been bleeding subscribers. The company announced layoffs this week and they aren't alone. Companies have already begun moving out of downtown Chicago, and an economic downturn in the Windy City isn't likely to improve crime statistics. Rather, it is more likely to make the problem significantly worse.
City leaders in Chicago might need a new strategy to deal with crime in Chicago, which has been spiraling out-of-control for some time now and shows no sign of even slowing, let alone reversing.
If things are allowed to get much worse, it may be too late to pull Chicago back from the brink of following in the footsteps of another once-prosperous midwestern city fallen on hard times: Detroit.
(contributing writer, Brooke Bell)