In his first Congressional address, Biden touted his American Families Plan, made the case for Dreamer amnesty, and pledged to reduce gun violence.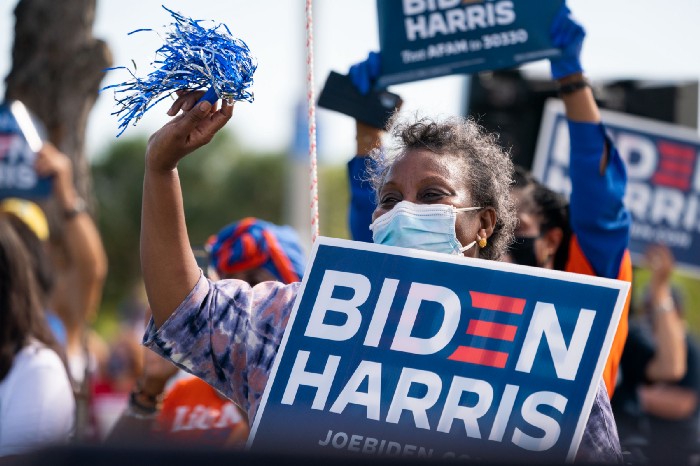 President Joe Biden delivered an optimistic address to a joint session of Congress on Wednesday night, as he made a case for his COVID-19 recovery plans, recent infrastructure bills and his agenda moving forward.
President Biden kicked-off his first joint session of Congress by addressing Vice President Kamala Harris and House Speaker Nancy Pelosi.
"Madam Speaker," Biden said. "Madam Vice President. No president has ever said those words from this podium. No president has ever said those words. And it's about time."
For the first time in American history, the two officials sitting behind the President as he delivered his remarks were women — VP Kamala Harris and Speaker Nancy Pelosi.
Pelosi has attended presidential speeches to Congress before, but this year marked the first time she sat alongside a female vice president.
While more than 1,600 people usually attend a presidential speech to Congress, this year, only 200 people were allowed to be there in person. Biden delivered the address on his 99th day in office, taking an optimistic tone as he made the case for his presidential agenda.
The coronavirus pandemic was one of the first topics the President addressed, as he spoke about how he, "inherited a nation…that was in crisis."
"Now, after just 100 days, I can report to the nation, America is on the move again," President Biden said in his remarks. "Turning peril into possibility, crisis into opportunity, setbacks to strength."
"After I promised we would get 100 million Covid-19 vaccine shots into people's arms in 100 days, we will have provided over 220 million Covid shots in those hundred days, thanks to all the help of all of you," Biden continued. "Today, 90 percent of Americans now live within five miles of a vaccination site."
Much of Biden's speech focused on what he hopes to do over the next year, including his plans to address gun violence, which he said is, "becoming an epidemic in America."
"The flag at the White House was still flying at half-mast for the eight victims of the mass shooting in Georgia when 10 more lives were taken in a mass shooting in Colorado," Biden said. " And in the weekend between those two events, 250 other Americans were shot dead in the streets of America. 250 shot dead."
Biden, however, acknowledged the difficulty with making progress on gun control, as the House-passed gun control measures continue to receive major pushback among Senate Republicans.
Biden then addressed immigration, which he says, "has always been essential to America," calling on Congress to pass his immigration bill.
"On Day 1 of my presidency, I kept my commitment and sent a comprehensive immigration bill to the United States Congress," Biden said. "If you believe we need a secure border, pass it, because it has a lot of money for high-tech border security. If you believe in a pathway to citizenship, pass it."
"There's over 11 million undocumented folks, the vast majority here overstayed visas," he added. "Pass it."
As promised by the White House, Biden also made a case for his newly announced American Families Plan, calling for a "once in a generation" investment in families and children.
The plan calls for universal preschool for 3- and 4-year-olds, as well as two years of free community college, a national paid leave program and $800 billion in tax credits for families and workers.
Biden noted his personal connection to education, as his wife, First Lady Jill Biden, teaches at a community college.
"If I've heard it once, I've heard it a thousand times," he said, quoting his wife Jill. "'Joe, any country that out-educates us is going to out-compete us.' She will be deeply involved in leading this effort. Thank you, Jill."
Biden finished up his speech by saying. "We're the United States of America. There is not a single thing — nothing, nothing beyond our capacity. We can do whatever we set our minds to if we do it together. So let's begin to get together."
"God bless you all and may God protect our troops," Biden concluded. "Thank you for your patience."
(contributing journalist, Allegra Nokaj) (contributing writer, Brooke Bell)