"A measure of justice isn't the same as equal justice," said VP Kamala Harris. "This verdict brings us a step closer, and the fact is we still have work to do."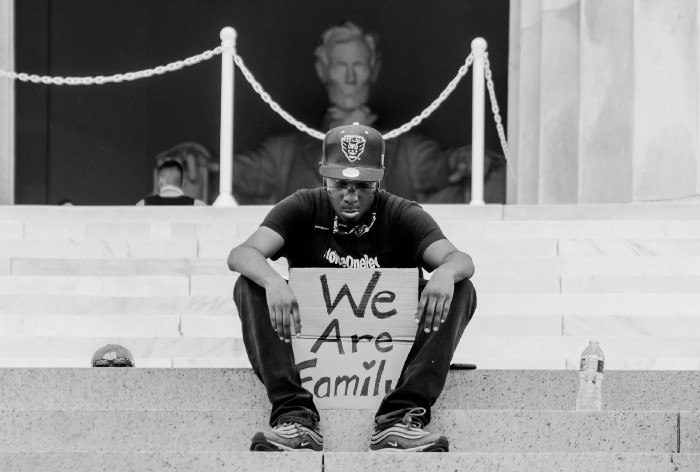 A jury in Minneapolis on Tuesday found the former Minneapolis PD officer Derek Chauvin guilty of second-degree murder, third-degree murder, and manslaughter in the death of George Floyd.
Minnesota sentencing guidelines recommend 12.5 years in prison for both murder counts and four years for the manslaughter charge for those with no criminal history, however, Chauvin, 45, could face a maximum of 40 years if Cahill determines there were aggravating factors.
President Biden delivered a speech from the White House reacting to the Chauvin verdict, in which he said the murder had, "ripped the blinders off for the whole world to the systemic racism…that's a stain on our nation's soul."
"Most men and women who wear the badge serve their communities honorably. Those few who failed to meet that standard must be held accountable, and they were today. One was," Biden said. "No one should be above the law. And today's verdict sends that message."
"But it's not enough," he continued. "We can't stop here. In order to deliver a real change in reform, we can and we must do more to reduce the likelihood that tragedy like this will ever happen to occur again."
Biden also urged activists to ignore agitators "who seek to carry out to violence."
"A legacy of peace, not violence; of justice, peaceful expression of that legacy are inevitable and appropriate but violent protest is not," Biden said in his White House address.
"And are those who will seek to exploit the raw emotions of the moment, agitators and extremists who have no interest in social justice, who seek to carry out violence, destroy property, and fan the flames of hate and division … do everything in their power to stop this country's march toward racial justice," he continued.
The viral video of Derek Chauvin's knee on George Floyd's neck sparked worldwide outrage, months of protests and the most expensive period of rioting in United States history.
Prosecutors built a case that Derek Chauvin caused Floyd's deaths by kneeling on his neck for over nine minutes-even after Floyd became unresponsive, using the video taken by onlookers as their key piece of evidence.
In turn, the defense argued that the officer acted reasonably and that Floyd died from the effects of an overdose and a heart condition.
Vice President Harris, who spoke before President Biden, called the verdict a step forward in law enforcement reform.
"A measure of justice isn't the same as equal justice," she said. "This verdict brings us a step closer, and the fact is we still have work to do. We still must reform the system."
"America has a long history of systemic racism," Harris said. "Black Americans and Black men in particular have been treated throughout the course of our history as less than human. Black men are fathers and brothers and sons and uncles and grandfathers and friends and neighbors. Their lives must be valued in our education system, in our healthcare system, in our housing system, in our economic system, in our criminal justice system, in our nation."
Vice President Harris urged the Senate to pass the George Floyd Justice in Policing Act, which she says "would hold law enforcement accountable and help build trust between law enforcement and our communities."
Earlier in the day, hours before the jury found Chauvin guilty, President Biden told reporters on Tuesday that the evidence against Chauvin was "overwhelming in [his] view" and that he is "praying for the right verdict."
Many online pundits criticized the president's unusual decision to weigh-in on behalf of an outcome in an ongoing judicial proceeding. Judge Peter A. Cahill, the Minnesota state judge presiding in the case, warned politicians against publicly commenting on the case after Rep. Maxine Waters urged protestors to organize more aggressively in the event of a not-guilty verdict.
President Biden, however, defended his statement by saying that the evidence had already been presented and the jury would not hear his remarks before rendering their verdict.
"I wouldn't say that unless the jury was sequestered now," Biden said.
Though the Chauvin case will undoubtably be appealed, justice appears to have been served for the time being. Sentencing in the case has yet to take place. Many are going to be expecting Chauvin to receive the harshest possible penalty allowed by law. Whether or not he will receive it may be the next test for the U.S. legal system.
The U.S. AG Merrick Garland has announced a federal probe into allegations of police violence in Minneapolis, which will be another key test.
(contributing journalist, Allegra Nokaj) (contributing writer, Brooke Bell)