They are willing to teach. Are they willing to learn?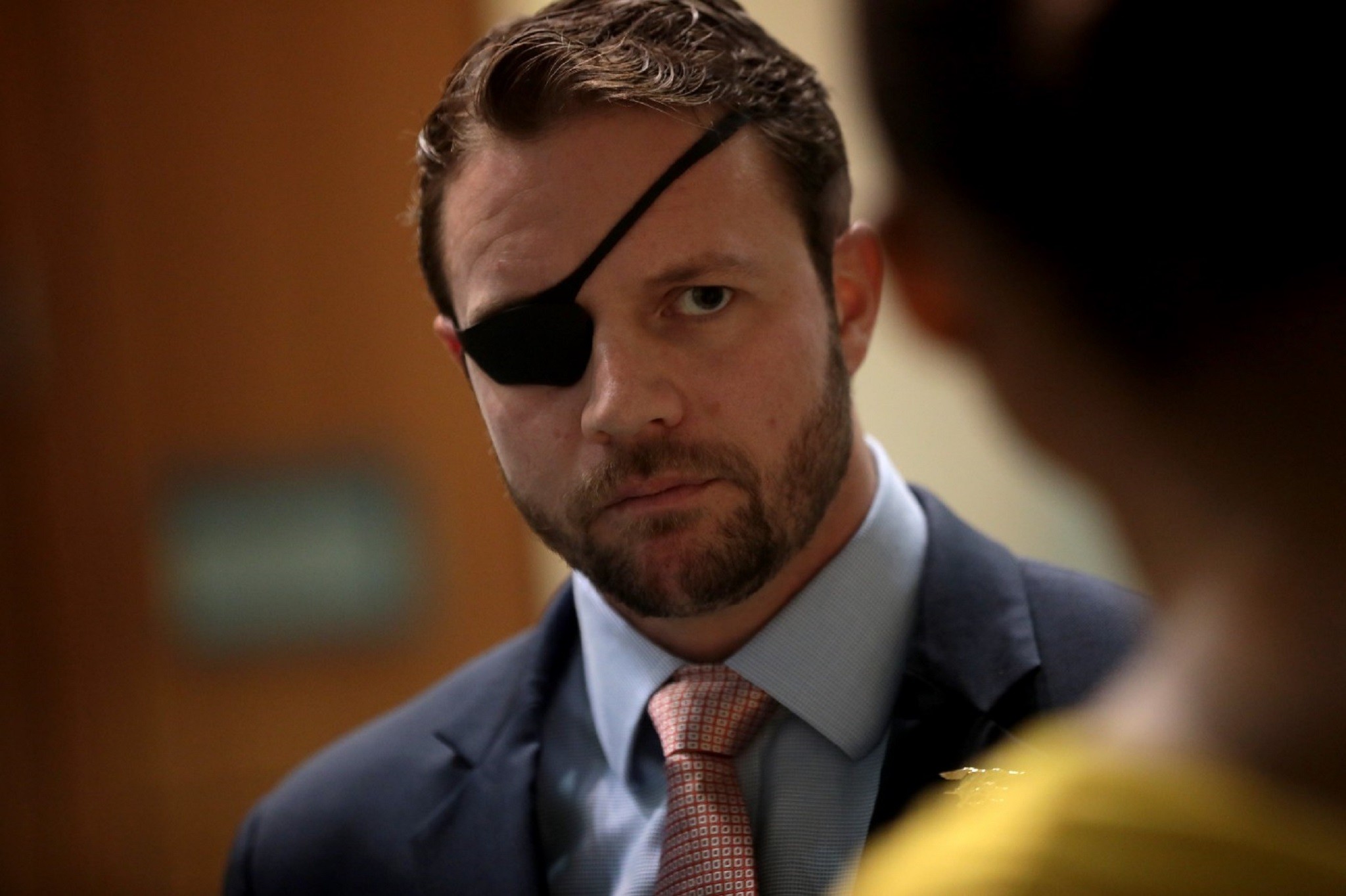 U.S. Congressman Dan Crenshaw speaking with attendees at the 2018 Student Action Summit hosted by Turning Point USA at the Palm Beach County Convention Center in West Palm Beach, Florida. (photo: Gage Skidmore)
Can't Be Wrong
When Minnesota Representative Ilhan Omar started talking about Israel, Jewish people, and Jewish money secretly controlling the world of U.S. politics, Jewish people spoke up.
Omar's colleagues defended her. None more so than her fellow legislative freshman and twitter sensation, New York Representative Alexandria Ocasio- Cortez.
When Omar continued to make statements that were at best insensitive, at worst anti-Semitic, Jewish people objected. Omar's colleagues defended her. Even after some of Omar's Jewish Democratic colleagues expressed disquiet, and disgust, her defenders never wavered.
Omar, her defenders in the press shouted to the rooftops, was only starting a necessary and long-overdue conversation about the evil machinations of Israel. Iran, is misunderstood; Israel, they said, is pure Evil.
When Rep. Ilhan Omar referred to former President Barack Obama as Donald Trump with a prettier face, some liberal Democrats didn't like it much. But Omar's colleagues still defended her.
Even when Rep. Ilhan Omar recently called Stephen Miller a white nationalist on twitter, her defenders went immediately into action. Stephen Miller is Jewish; somehow, Jewish people can be white nationalists? Members of the press went as far as to leave the fact that Miller is Jewish out of their news reports about the incident.
After scathing criticism of the Jewish-led AIPAC, and again lambasting the pernicious influence of Jewish money in politics, Ilhan Omar held some fundraising events of her own. The events were sponsored by the CAIR-PAC.
According to Omar, CAIR-PAC is a good organization dedicated to helping Muslims in America; AIPAC is is a bad organization dedicated to helping Jews take over the world.
Concerns were raised in the Jewish community, and elsewhere; what was Ilhan Omar saying at these closed door, private fundraising events where no press was allowed? Was she campaigning on her anti-Semitic remarks?
When a video surfaced last week of one of Omar's secret CAIR-PAC speeches, we found out: Muslims who faced discrimination after 9/11 is a big deal, the 3,000 Americans who lost their lives in that terrible tragedy, was not. "Some people did something." according to Ilhan Omar, on 9/11.The New York Post certainly agreed it was "something".
Now, as Omar has often claimed before, she doesn't always understand the impact, or historical context, of her words. She has even thanked her Jewish colleagues for educating her on language and phrases they feel have an oppressive, hurtful or dangerous subtext.
After all, Rep. Ilhan Omar isn't from New York.
She might not understand how sensitive New Yorkers still are, as indeed are many in the U.S., about the tragic events of 9/11. For many, the wounds are still too fresh to appreciate nuance and context. A great deal was lost that morning and unlike the terrible events of the distant past, there are still many living remainders of the immense grief it left in its wake.
Living bearers of that grief deserve a little deference. Instead, Ilhan Omar was dismissive about an event that altered the course of many lives in the U.S., and perhaps every life in New York.
One such life, was Rep. Dan Crenshaw's. His objection to Omar's comments, after his multiple tours of duty, military honors, and the life-altering loss of an eye, are understandable.
The criticism of Deputy Chief Jim Riches FDNY, retired, is understandable: His son was a firefighter who died saving others on 9/11. The criticism of the New York Post is understandable.
Even the criticism of the right is understandable. They have an election to win.
The reaction of New York Representative Alexandria Ocasio-Cortez is not.
Rather than taking the opportunity to explain to her college and, one would assume at this point, friend, why New Yorkers won't look kindly upon comments like these with open-minded interest, A.O.C. sided with her again.
Is Ilhan Omar ever wrong? Has she ever been wrong in her life?
Is there anything Omar could say that A.O.C. and other so-called progressive Democrats would consider over the line?
It would have been completely reasonable for A.O.C. to have said, as the New York representative, "Hey, I understand what you meant Ilhan, but when you talk about 9/11, try to be a little more sensitive to people in my district."
Or is Ilhan Omar all done learning? She is always the victim?
She is never wrong?
Her main complaint against the U.S., the country that sheltered her and her family when "some people did something," and they had to flee war-torn Somalia, seems to be that since she got to America, she has been disappointed it isn't like it was in the American movies she saw as a kid.
Join the club, Ilhan Omar. We're all disappointed life isn't like the movies. The U.S. has discrimination and poor people, just like everywhere else.
But facing discrimination doesn't give you the right to discriminate against others. Having faced increased discrimination since 9/11 doesn't give you the right to be so dismissive of the tragedy, or make it about you.
Rep. Ilhan Omar's defenders need to take a break on this one; this time, she was wrong. People can be wrong.
Omar owes an apology for her insensitivity. And A.O.C. owes a bigger one for not setting her strait.
(contributing writer, Brooke Bell)