2020/2021 were record years for gun sales, and it wasn't just Republicans buying guns.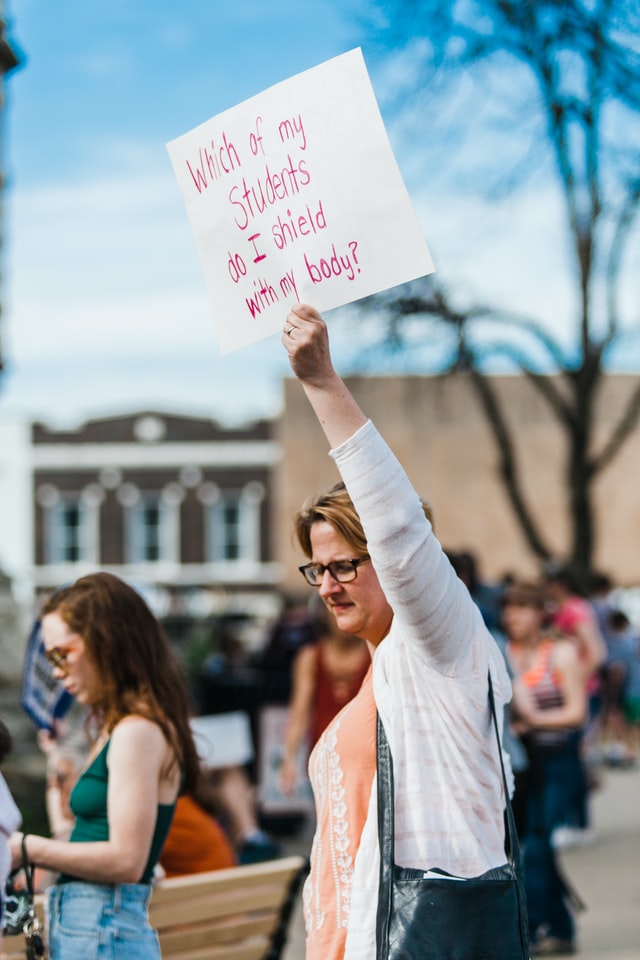 When Democratic Party Presidential candidate Robert Francis "Beto" O'Rourke stood on stage and delivered his immortal line, "Hell, yes we are going to take your AR-15, your AK-47!" all of liberal Twitter roared its approval.
Universally lauded on the left, O'Rourke rode his memorable promise all the way to…nowhere. Here was a candidate who candidly backed a mandatory gun buyback program; why didn't progressive voters rally behind him in the primary?
Where the rubber met the road on gun control, even in the halcyon pre-Covid days of 2019, many elected officials in the Democratic Party were too reluctant to stake out such an unpopular position.
Not only did his "Hell, yes!" line probably cost Beto the nomination, it also netted him the dubious benefit of being named NRA gun salesperson of the year. So many people rushed out to buy guns, faced with the remotest possibility they might not be able to, Beto inadvertently caused more of what he promised to prevent.
Then, of course, Covid19 happened and everything changed. Things were shut down, there were shortages, it was scary, especially at first, and Americans bought guns- in record numbers. First time gun buyers bought guns, women bought guns, African-Americans bought guns, minorities bought guns; people in cities bought guns, people in the country bought guns. In red districts, Republicans bought guns.
In blue districts, Democrats bought guns, too.
"'Self-Defense Is Self-Care': How the Growing Ranks of Left-Wing Gun Owners See the Election," wrote Eve Peyser for the New Yorker on November 2, 2020.
"A Divided Nation Agrees About One Thing," concluded the New York Times gloomily in October of 2020: "Many people want a gun."
"It was another week with another horrific mass shooting," wrote Sabrina Tavernise for the New York Times on May 29, 2021 in a piece titled, "An Arms Race in America: Gun Buying Spiked During the Pandemic. It's Still Up."
"In cities across the country, gun homicides were climbing," Tavernise wrote, somewhat eerily. "Democrats and Republicans argued over the causes. President Biden said enough."
Things heated up for gun sales during the 2020 "Summer of Love", which felt in many large cities like the 2020 Summer of Powder Keg About to Blow. In advance of the election in November of 2020, lest we forget, major cities were bracing for serious violence in the event of a Donald Trump reelection.
It wasn't difficult for major cities to brace for violence at that point; many stores, shopfronts, entire blocks, whole shopping districts had already been boarded up for months.
Violent and opportunistic criminals who used the massive George Floyd protests as cover for criminal activities continued to commit crimes once the protests receded and crime has been rising ever since.
A sharp rise in violent crime, vandalism, property crimes, carjackings, shoplifting sprees carried out by hundreds of people acting in coordination: All this, along with the unwillingness or inability of law enforcement communities to curtail it, is what has sent so many law-abiding, otherwise peace-loving people- Republican and Democrat- diving for their nearest gun store.
As crime has continued to rise across the nation, even more people have bought guns for personal protection and home security. Whether owning a gun is morally right or wrong, sensible or silly, safe or ill-advised, more likely to save your life or take it, one basic fact remains the same:
Too many Democrats bought guns in the past two years for any major groundswell of support for gun control now, however miserable the Democratic Party, and the nation, may feel about the latest mass shootings.
As gut-wrenching as the stories coming out of Uvalde and Buffalo are, the epidemic of gun violence in America infects a much wider swath than that.
Neighborhoods in Chicago are routinely grieving for children, family members, friends, neighbors and co-workers killed as Chicago's homicide rate, like that of so many other cities from Seattle to Washington, D.C., continues to tick upwards.
Substantive gun control may be out of reach at this time, but gun control isn't the only thing that might help curb mass shootings and gun violence.
The devastating mass shootings we are routinely witnessing, and the routine violence in places like Chicago- to which we are turning a blind eye- would not disappear tomorrow, even if all the guns were outlawed unilaterally right now.
The gun which the Uvalde gunman used to murder innocent children and teachers in an elementary school was purchased legally; it obviously shouldn't have been.
The guns which Mayor Lori Lightfoot and the Chicago PD are currently dealing with are already illegal, so-called ghost guns- untraceable and against the law.
Killing people in a grocery store, or on a Chicago city street, or, God help us, in an elementary school, is already as illegal as it can possibly be. Those few mass shooters who have been taken alive will never see the outside of a prison cell, whatever else happens.
It is time to fix what can be fixed with gun control; forget about the false dichotomy between no guns for anyone and guns for everybody. There must be a balance somewhere between those two poles; and we aren't there now, obviously.
Those who argue most vociferously against any sort of gun control must not be dismissed from the conversation. Dismissing them from the conversation does not make them go away. Considering the proliferation of gun ownership across all demographics, there are deeper problems we all must solve together.
The arguments gun control opponents often trot out in favor of their position do have some merit; there are other factors besides guns which contribute to the epidemic of violence, including gun violence, in America.
The root causes of poverty, social dysfunction and criminality are normally something liberals are quite keen to discuss. The prospect of gun control or improved social services is not an either or choice.
We need sensible gun control and better social services for mental health care, addiction counseling, and violence intervention.
The epidemic of gun violence, including the most visible and shocking manifestation of mass shootings, isn't likely to spontaneously get better. In fact, considering the downward trajectory of the economy, rising crime, the major blow to national mental health dealt by two years of pandemic lockdowns, mandates, isolation, and unrelentingly negative media coverage, the problem is likely to get much worse.
If it is to get better, there is only one solution and, like all Great Compromises, neither Republicans nor Democrats is going to like it much: Bipartisanship.
Yes, it's a tough election year. Aren't they all.
Two mass shootings in one week is unimaginable, but here we are. Even now, the next mass shooter is already planning a new heartless, hideous attack on innocent, unsuspecting people.
People going shopping, or headed to the movies, or cheering their team at a sporting event, or attending services at their place of worship, will leave their houses and never come back.
The only question is, will it be next week- or tomorrow?
(contributing writer, Brooke Bell)