President Biden has announced plans to honor Trump's agreement with the Taliban to withdraw all U.S. troops from Afghanistan, extending the deadline to Sept. 11, 2021.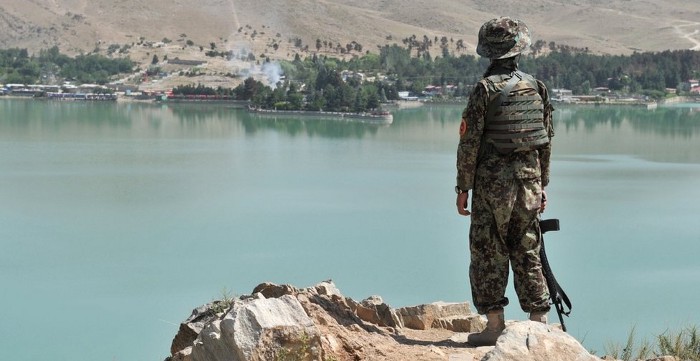 The United States will withdraw all U.S. troops from Afghanistan by Sept. 11, 2021, the 20th anniversary of the al Qaeda attacks that triggered the longest war in American history, U.S. officials said Tuesday.
"We cannot continue the cycle of extending or expanding our military presence in Afghanistan hoping to create the ideal conditions for our withdrawal, expecting a different result," President Biden said.
"I am now the fourth American president to preside over an American troop presence in Afghanistan. Two Republicans. Two Democrats," Biden added. "I will not pass this responsibility to a fifth."
Biden said the removal of troops would be done "responsibly" and "safely," and he has spoken to President George W. Bush, whose administration launched the invasion in 2001, about his decision.
Biden's decision would miss a May deadline for withdrawal under an agreement President Trump's administration reached with the Taliban last year. In the February 2020 agreement, the Taliban agreed to stop attacks and hold peace talks with the Afghan government, in exchange for a U.S. commitment to a complete withdrawal of troops by May 2021.
The Taliban previously warned the U.S. of "consequences" if it went back on the May 1 deadline. Biden will begin the withdrawal on May 1 and it will be completed by Sept. 11, "an absolute deadline that won't be extended due to security concerns in the country, " a senior administration official said.
The only U.S. forces that will remain in Afghanistan will be those needed to protect diplomats, according to the administration official.
"This is not conditions-based," the official said. "The president has judged that a conditions-based approach, which has been the approach of the past two decades, is a recipe for staying in Afghanistan forever."
"President Biden will give our military commanders the time and space they need to conduct a safe and orderly withdrawal, not just of U.S. forces but of allied forces, as well, on the principle of 'in together, out together,'" the official added. "And so, we will take the time we need to execute that, and no more time than that."
After President Biden's remarks, he visited Arlington National Cemetery "to pay his respects to the brave men and women who have paid the ultimate sacrifice in Afghanistan," White House Press Secretary Jen Psaki said.
President Biden has received mixed reactions to the new deadline.
Defense officials and commanders have argued against the May 1 deadline, saying the withdrawal should be based on security conditions such as Taliban attacks. Republican and Democrat critics argue that the president's decision risks retaliation by the Taliban, which could put both Afghan and American lives at risk.
"Precipitously withdrawing U.S. forces from Afghanistan is a grave mistake," said Senate Minority Leader Mitch McConnell. "It is retreat in the face of an enemy that has not yet been vanquished and abdication of American leadership."
"Leaders in both parties, including me, offered criticism when the prior administration floated the concept of a reckless withdrawal from Syria and Afghanistan," McConnell added.
"I'm very disappointed in the president's decision to set a September deadline to walk away from Afghanistan. Although this decision was made in coordination with our allies, the U.S. has sacrificed too much to bring stability to Afghanistan to leave without verifiable assurances of a secure future," Democrat Senator Jeanne Shaheen said in a statement.
Other members of both parties have voiced their support of President Biden's decision.
"The U.S. went into Afghanistan in 2001 to defeat those who attacked the U.S. on 9/11," Democrat Senator Tim Kaine said in a statement. "It is now time to bring our troops home, maintain humanitarian and diplomatic support for a partner nation, and refocus American national security on the most pressing challenges we face."
Republican Senator Rand Paul said in a statement on Twitter that "It's great when we can find places to agree."
"I'm grateful President Biden is keeping President Trump's plan to leave Afghanistan, even with a delay until fall," Sen. Paul continued. "The time to bring our troops home is now or as soon as possible. Enough endless wars."
Afghanistan's first female Ambassador to the U.S. Roya Rahmani has often cautioned against ending U.S. reconstruction efforts and withdrawing troops too soon.
She and other critics of the decision have noted that women's rights in Afghanistan- hard-won over the past decades since the Taliban fell and U.S. troops were welcomed by the Afghan people- are gravely imperiled by the Taliban. Missing from the conversation, on both sides of the political aisle, is how the withdrawal of U.S. troops in September will impact the citizens of Afghanistan.
Humanitarian organizations and human rights watchdogs will be waiting nervously over the next few months as the troop drawdown begins.
Will the Taliban really work with the Democratically-elected Afghan government if U.S. forces leave?
Or will the region suffer a new wave of terror and oppression at the hands of Taliban leaders who only have to bide their time until September?
(contributing journalist, Allegra Nokaj) (contributing writer, Brooke Bell)