George Floyd galvanized lawmakers and voters to support policing reform. Will Uvalde and Buffalo do the same for gun control?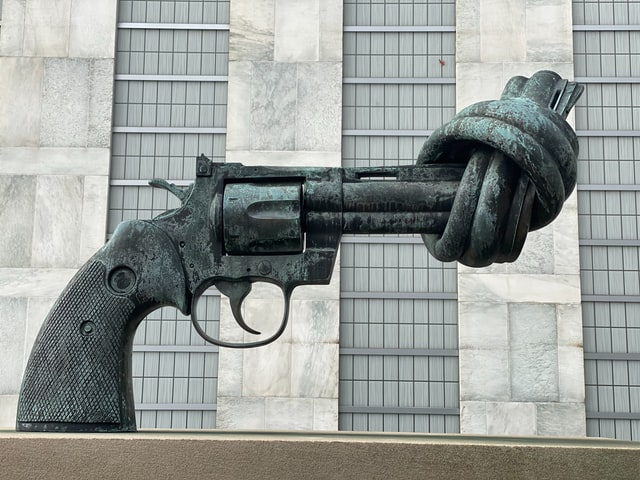 The killing of George Floyd in Minneapolis by then-police officer Derek Chauvin was, sadly, not unique.
Granted, most of America had- blessedly- never seen a snuff film prior to May 25, 2020. Most hoped never to do so and hope never to do so again.
But George Floyd, as gut-wrenching as his death was to watch, was hardly the first unarmed man killed by excessive force while in police custody.
In 2018, as an example, contacts between police officers and members of the public numbered upwards of 61.5 million. Out of those, police kill a grim average of 1,000 people per year, most years. A small percentage of the 1,000 are unarmed, 77 out of 1,136 people killed by police officers in 2021, for instance. Most are armed suspects actively trying to kill police officers or others; 73 police officers were killed last year while on-duty, a number up by almost 60%.
George Floyd wasn't the first Black man killed by police, either; he wasn't the first man to be killed by a police officer later found guilty of murder in the case, though most officers involved in fatal force cases aren't prosecuted.
George Floyd wasn't even the first unarmed person slowly and agonizingly suffocated under the weight of a police officer's knee.
But the death of George Floyd, public as it was, was a watershed moment for policing reform in America. Because of that horrifying video, more people flocked to the cause of Black Lives Matter than ever before, elevating the organization from a small, struggling non-profit to a household name.
In the wake of Floyd's death, Republicans and Democrats attempted significant criminal justice and policing reform measures. Former President Donald Trump issued an executive order aimed at policing reforms in June of 2020.
President Joe Biden has since gone even further, signing an Executive Order this week as we passed the second anniversary of the death of George Floyd.
"Two years ago, the murder of George Floyd exposed for many what Black and Brown communities have long known and experienced — that we must do more to ensure that our Nation lives up to its founding promise of fair and impartial justice for all," the Biden Administration said in a statement.
"The incident sparked one of the largest social movements this country has ever seen, with calls from all corners to acknowledge the legacy of systemic racism in our criminal justice system and in our institutions more broadly," said the White House.
Among other things, this new order creates a new national database of police misconduct- including, "due process protections for officers,"- it also mandates the adoption of body-worn camera polices for Federal Law Enforcement Agencies. It bans the use of, "chokeholds and carotid restraints unless deadly force is authorized, and restricts the use of no-knock entries".
Biden's new executive order, "restores and expands upon the Obama-Biden Administration's restrictions on the transfer of military equipment," and, "implements a new, evidence-informed annual anti-bias training requirement".
While this type of policing and criminal justice reform doesn't go nearly as far as Black Lives Matter and progressive activists want, it should serve as an excellent reminder that there is still much need for improvement in our legal system- and still a commitment at the highest levels to get it done.
President Biden's executive order on policing reform, "requires full implementation of the FIRST STEP Act".
The last major piece of criminal justice reform legislation, the FIRST STEP Act passed during Trump's administration. Its very name begged the question, threw down a gauntlet for future caucuses to pick up: The SECOND STEP Act is but a bipartisan agreement away, and not out of the question by any means.
President Joe Biden would be likely to sign into law anything sensible a bipartisan coalition of elected leaders in two houses of government were to cobble together on policing reform.
Now, two years after the death of George Floyd brought to the surface long-submerged undercurrents of injustice and persecution in America, two events in the space of a week have shaken the nation's lawmakers and leaders into potential action on sensible gun control.
Sensible gun control measures aren't too much to hope, even considering how many people purchased handguns or rifles over the past two years. No one, as President Biden has often said, needs a high-capacity, machine-gun type weapon.
Perpetrators in previous mass shootings have been able to kill a dozen people in a matter of seconds. It is difficult to imagine the home defense, or personal protection, or deer hunting situation in which such a weapon would prove necessary.
There is much room for improvement in social services, drug treatment and addiction counseling, mental health crisis intervention, domestic violence remediation, and other critical social service programs as well.
Some of the points conservatives raise are valid ones; their arguments wouldn't have survived this long otherwise. Already, cooperation has begun at the highest levels.
Republican Senate Minority Leader Mitch McConnell has signaled support for the gun control efforts of Democratic Sens. Chris Murphy (D-CT) and Kyrsten Sinema (D-AZ), and is, "hopeful that we could come up with a bipartisan solution."
The work hasn't finished on policing reform; far from it. But it has begun in earnest in the wake of the death of George Floyd.
The work hasn't yet begun in earnest on gun control, and its proponents still have an uphill climb against American gun culture and powerful interests.
But it is just possible May 2022 will later come to be known as the moment the tide began to turn against the steady strum of mass shootings in America.
(contributing writer, Brooke Bell)