Innocent victim of mob justice or infamous hate crime hoaxer?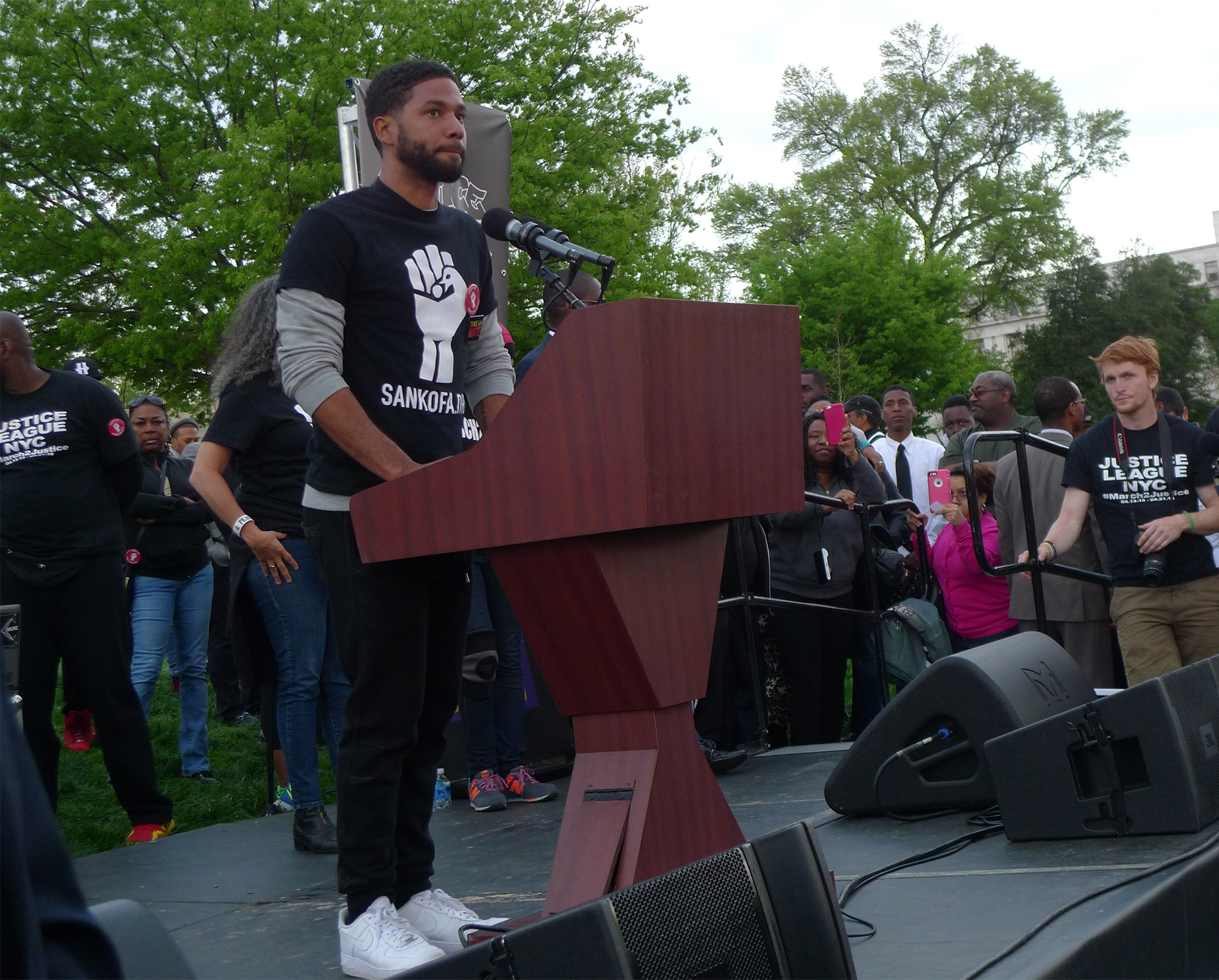 As much as the Chicago Sun Times Editorial Board would like to, "turn the page on the Jussie Smollett saga," the notorious actor is again in the spotlight.
After a conviction in December for orchestrating a hate crime hoax against himself, the former Empire star was sentenced today by Judge James Linn. Mr. Smollett was given 30 months felony probation in addition to 150 days in the Cook County Jail.
Smollett was also ordered to pay $120,000 to the City of Chicago for wasting police department resources on a false claim, plus a $25,000 fine.
Smollett still maintains his innocence.
"If I did this, then it means I stuck my fist in the fears of Black Americans in this country for over 400 years and the fears of the LGBTQ community," Mr. Smollett said in response to the judge's sentence. "Your honor, I respect you and I respect the jury, but I did not do this, and I am not suicidal."
"You're just a charlatan, pretending to be the victim of a hate crime," Judge Linn had told Smollett during the proceedings. "Your very name has become an adverb for lying."
"There is nothing that I can do here today that will come close to the damage you've already done to your own life," Judge Linn said. "You turned your life upside down by your misconduct and shenanigans."
"Smollett's jail sentence is excessive," the CST Editorial Board has noted, "but he brought in on himself."
"We hope Smollett's sentencing will finally bring an end to the saga," Chicago's paper of record urged. "Chicago's attention should be focused on much more urgent matters, such as ending gun violence and recovering from the pandemic."
That Chicago has more important things to worry about than the threat Jussie Smollett may ultimately pose to society is a sentiment being echoed from many quarters in response to the outcome of the case.
"Last year alone there were over 800 murders in Chicago," Cooks County State Attorney Kim Foxx wrote today in an op-ed responding to Smollett's sentence. "My administration has vacated over 177 wrongful convictions, 87 of those in the last 3 years. Rather than working collaboratively to stem rising crime or free the wrongly convicted, a small group of people hijacked the legal system to enact what is best described as mob justice."
Foxx became embroiled in the case when her office elected not to prosecute Smollett, in spite of ample evidence he committed a crime. A special prosecutor was appointed and the resulting 60-page report detailed serious, "procedural and ethical missteps," as Foxx, "tried to mislead the public as the office struggled to respond to outrage over the decision to dismiss charges against the 'Empire' actor."
In spite of his conviction in December, Mr. Smollett is not without prominent defenders, in addition to Kim Foxx. Neither Foxx, nor actor Samuel L. Jackson, nor the organization Black Lives Matter have maintained his innocence of the charges brought against him; all wanted the court to find alternatives to incarceration for Smollett.
"Jussie has already suffered a great deal of punishment, as this situation has destroyed his existing career and impugned his reputation," wrote Samuel L. Jackson and his wife on behalf of Smollett. "Please Judge Linn, in God's name, please save this young man and allow him to be of service. Jussie Smollett is worth the risk and investment."
"The jail time is excessive, in our view, given Smollett's lack of a criminal record," agreed the CST Editorial Board. "But Smollett's refusal to take responsibility, his arrogance and his defiant testimony during his trial probably helped land him behind bars."
"He'll never admit that his lies could have sparked violence, that Chicagoans could have been hurt or killed," concluded former Chicago Tribune reporter and current Chicago media firebrand John Kass. "He can't admit publicly to perjury on the witness stand before judge and jury in that trial where he was convicted on five of six counts."
While plenty of Chicago liberals were eager to let city prosecutor Kim Foxx sweep the whole embarrassing incident under the rug- along with every prominent celebrity and politician who demanded #JusticeForJussie- not every Democrat in Chicago was so inclined.
Chicago Mayor Lori Lightfoot released the following statement: "The criminal conviction of Jussie Smollett by a jury of his peers and today's sentencing should send a clear message to everyone in the city of Chicago that false claims and allegations will not be tolerated."
"The malicious and wholly fabricated claim made by Mr. Smollett resulted in over 1500 hours of police work that cost the city over $130,000 in police overtime," Mayor Lightfoot said. "The city feels vindicated in today's ruling that he is being held accountable and that we will appropriately receive restitution for his actions."
In spite of the most fervent wishes of Chicago city leaders and media outlets, the Windy City hasn't yet seen the end of Jussie Smollett. A civil suit is currently being brought against the actor by the two Nigerian brothers Smollett was convicted of paying to stage the hoax. The City of Chicago is responsible for a separate pending civil suit.
Whatever the truth about Smollett, he has likely been both victim and perpetrator in this case. Law enforcement agencies and prosecutors aren't unfamiliar with the, "deny, deny, deny," defense, however. Convicted criminals in high profile cases frequently maintain their innocence, sometimes forever, however much evidence is presented against them.
That Jussie Smollett isn't yet ready to come clean about what really happened in Chicago that fateful night, isn't surprising. It may have more to do with avoiding incriminating himself in the pending civil suits than arrogance or defiance of the court.
As others have noted, the court of public opinion found Smollett guilty long before a jury of his peers heard a shred of evidence against him. Nothing can erase that conviction and Smollett's defenders, and Judge Linn, are correct that the worst consequences will be to his reputation and career prospects.
Escaping this particular episode in his life will be all but impossible. No further damage is likely to be done, but what damage Smollett has suffered carries a life sentence.
(contributing writer, Brooke Bell)