U.S. Special Forces either killed an "austere religious scholar" or executed the most dangerous terrorist in the world over the weekend.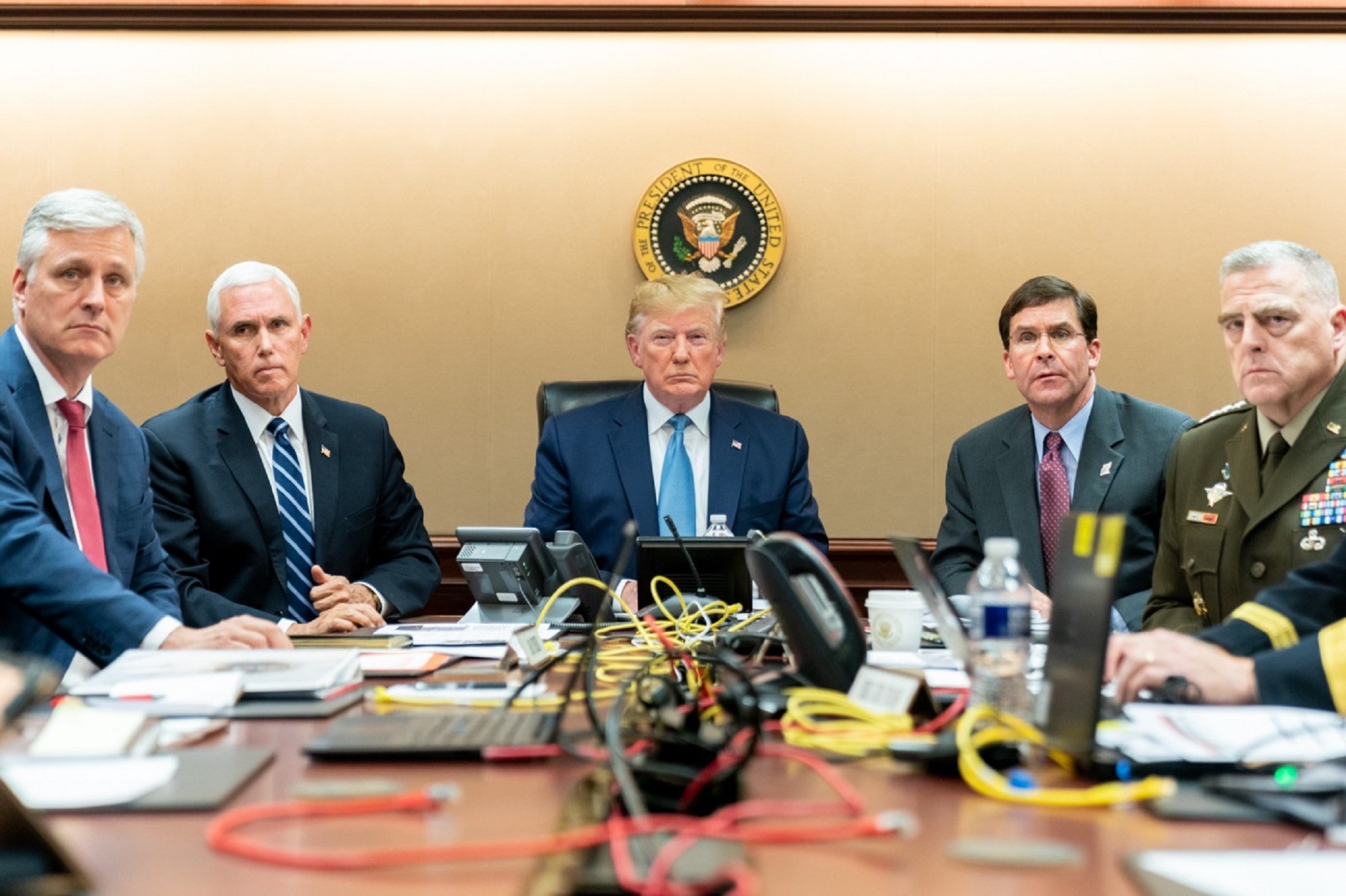 President Donald J. Trump is joined by Vice President Mike Pence, National Security Advisor Robert O'Brien, left; Secretary of Defense Mark Esper and Chairman of the Joint Chiefs of Staff U.S. Army General Mark A. Milley, right, Saturday, Oct. 26, 2019, in the Situation Room of the White House monitoring developments as U.S. Special Operations forces close in on notorious ISIS leader Abu Bakr al-Baghdadi's compound in Syria with a mission to kill or capture the terrorist. (Official White House Photo by Shealah Craighead)
"We will rout out the terrorists, no matter what cave they think they can hide in, and bring them to justice." — President George W. Bush, after 9/11/2001
President George W. Bush's prophetic promise echoed through history once again over the weekend. Bush started the work knowing others would finish it: Osama Bin Laden was brought to justice on President Barack Obama's watch; ISIS leader Abu Bakr al-Baghdadi, on President Donald Trump's.
There is almost no question that the man U.S. special forces ran to ground in the early hours of Sunday morning was the head of the ISIS Islamic State caliphate. Advanced, on-site DNA testing immediately confirmed the identity of al-Baghdadi, who detonated his suicide vest as U.S. forces closed in around him.
Most reputable news outlets were willing to credit the successful operation to U.S. forces, many were even willing to credit U.S. President Donald Trump.
Yet what should have been a unifying moment of grim satisfaction for all freedom-loving people in America and around the world, became instead instantly mired in divisive partisan politics
In the ultimate game of "there, I fixed your headline," national media organizations are going head to head in order to determine the winning narrative for the historic event which occurred Sunday morning, half a world away from the U.S.
If you are a reader of the Washington Post, you were greeted by the following headline yesterday morning: "Abu Bakr al-Baghdadi, austere religious scholar at head of Islamic State, dies at 48."
If you are a reader of the New York Post, however, the headline went like this: "Rot in hell, Abu Bakr al-Baghdadi."
What a difference a few miles can make: Washington, D.C. and New York City are only four hours away from each other by car. This glaring difference in the coverage of a U.S. military operation which netted the certain death of Abu Bakr al-Baghdadi has not gone unnoticed by media personalities and members of the right.
U.S. Secretary of State Mike Pompeo wasn't impressed with the Washington Post's description of al-Baghdadi and was quick to condemn the glowing eulogy in the strongest possible terms.
"I think its appalling and sick…that they've frankly not apologized for taking this man who was the head of the terrorist organization that beheaded people…who led a caliphate that threatened large pieces of the Middle East and indeed, presented risks to the United States of America."

"The fact that a national newspaper would describe this person as an 'austere religious scholar' in their headline- in the immediate aftermath of the achievements of President Trump and the administration, is truly appalling." — U.S. Secretary of State Mike Pompeo. October 28, 2019.
The list of conservatives disgusted by the Washington Post's attempts to candy-coat the life of al-Baghdadi is long indeed.
"An 'austere religious scholar'? 'Dead at 48'? No- he was cornered by the greatest, toughest, best military heroes on earth!! How about we killed the evil SOB. This is exactly why America will never trust these mainstream corrupt fake news outlets ever again." — Sean Hannity, Twitter. October 28, 2019
The carefully planned, meticulously orchestrated U.S. military raid on the compound where al-Baghdadi was hiding was named in honor of a female American peace worker who was kidnapped by ISIS while on a humanitarian mission to Turkey.
Kayla Mueller was imprisoned, tortured and raped by al-Baghdadi himself. Mueller's parents, on a personal mission to find out the details about their daughter's imprisonment and death, and in their efforts to find and recover her body, defied FBI instructions to interview al-Baghdadi's widow, who is currently imprisoned in France.
Through al-Baghdadi's widow, who kept Kayla Mueller imprisoned and available for al-Baghdadi to assault, the Mueller's know firsthand the unspeakable cruelty of the ISIS caliphate.
It is very doubtful that Kayla Mueller's grieving parents were much impressed with the Washington Post's description of the man who tortured, raped and murdered their daughter. No doubt they preferred President Trump's description of al-Baghdadi as a "gutless animal" who died "like a dog".
"I still say Kayla should be here, and if Obama had been as decisive as President Trump, maybe she would have been." — Marsha Mueller, to the Arizona Republic.
Exactly who, one wonders, was the Washington Post hoping to impress with that headline? Who are they trying not to offend by focusing on the scholarly career of a terrorist, rapist, and murderer of innocent people?
"For me what matters most I'm hoping now we will finally get the answers we have been asking for all along. I think this administration truly might help us. I don't think they are as closed about what happened." — Marsha Mueller, to the Arizona Republic
The Washington Post's headline for the story originally read, "Abu Bakr al-Baghdadi, Islamic State's terrorist-in-Chief, dies at 48." After the backlash to the Post's altered description of al-Baghdadi grew into a firestorm, the headline was changed again. It now reads: "Abu Bakr al-Baghdadi, extremist leader of Islamic State, dies at 48."
Why the headline was changed initially, and why it was changed again, remains unclear.
What also would remain unclear to anyone reading the Washington Post article, is that al-Baghdadi's long and storied career in terrorism, and his well-earned reputation as a sadistic serial rapist, very much overshadows his scholastic achievements.
"Later, former hostages would reveal that Mr. Baghdadi also kept a number of personal sex slaves during his years as the Islamic State's leader, including slain American hostage Kayla Mueller and a number of captured Yazidi women. U.S. officials corroborated the accounts." — Washington Post. October 27, 2019
What would the Washington Post have made of the day Adolf Hitler was found dead by suicide in a bunker as Allied forces closed in on him? If Hitler received the same kid-glove treatment the Post extended to al-Baghdadi, the Washington Post headline might have read: "Adolf Hitler, landscape painter, dead at 56."
The Washington Post owes the American people, U.S. Special Forces, President Donald Trump, and most of all, the parents of Kayla Mueller, an apology.
(contributing writer, Brooke Bell)