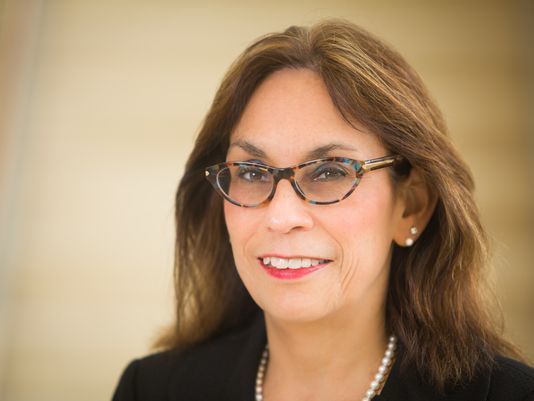 As a father of three daughters, I have always been a person who has sought to help and encourage women achieve their maximum potential in the workplace. I'm also somebody who has long admired those women who have made it to the very top of their profession.
Deborah D. Visconi is one of those women.
Visconi is the first President and Chief Executive Officer for New Bridge Medical Center in Paramus, NJ. New Bridge is the largest hospital in New Jersey, the largest hospital in Bergen County, and is the 4th largest public hospital in the country.
Her path to that prestigious position began at the New School for Social Research in New York City, where she earned a Bachelor of Arts in Health Services Administration and a Masters of Science in Health Care Administration. Visconi did not have anything handed to her – like any strong and driven professional woman, she worked incredibly hard every step of the way as she moved up the ladder bit by bit.
She began as a lab tech and eventually rose to the position of Beth Israel's Senior VP of Executive Administration, where she developed growth plans for the hospital and helped lead the development of community outreach programs for underserved communities. Visconi improved clinical efficiency and increased patient satisfaction scores by over nine percentage points from prior year though the implementation of the hospital's clinical information system, and creation of an aggressive ambulatory growth strategy for outpatient practices by increasing managed care participation for faculty and creating concierge and convenient care services.
After moving on to a position as Director of Operations of Morristown Medical Center, the flagship hospital for Atlantic Health System, one of New Jersey's largest non-profit health care systems, Visconi oversaw multiple hospitals in the Atlantic Health System's receipt of international recognition as a leader in healthcare equality by the Health Equality Index. The implementation of patient experience initiatives linked with cultural sensitivity, training programs and interpretation innovations under Visconi were so admired that they were featured in regional publications as "best-in-class" models.
While with Morristown Medical Center,Visconi also lead a team credited with programmatic growth across the enterprise, implementing the strategic plan and enhancing the hospital's footprint to the community. She led health care reform initiatives including ACO development and bundling models of care for the system, leading to service line restructuring and cost saving.
And now in her current role with New Bridge Medical Center, Visconi will be tasked with transforming the care delivery system to assure access for all residents of Bergen County, development of population health initiatives to assure needs of the community are met. Visconi will also be responsible for creation of innovative programs in the fight against the opiod epidemic, which is of the utmost importance as even the president has made clear with his declaration of the opioid epidemic as a national health emergency.
New Jersey is my neck of the woods and I have worked with hospitals and hospital administrators for years so it is important to me that strong and smart leadership be in place at New Jersey's top hospitals. I am pleased to say that I believe Debroah Visconi is exactly that type of person and that New Bridge Medical Center is in excellent hands. I am thrilled for her and even more thrilled for the patients who will receive excellent care on her watch.